BlogHer
ParentingAll AgesMy Project2 Comments
Every once in awhile, I get a little time to myself. And if I'm caught up here writing about kids activities, I start browsing Pinterest, check out my
Kid's Room Inspiration board
!I'm always drawn to kids' rooms designs. They're so pretty! And sometimes extremely out of my league, meaning that some seem so unrealistic for our home, almost too pretty and unlivable for our taste.
Which is why I'm so excited to be partnering with NBC's new show American Dream Builders that's coming this spring! I know there will be some great designs and livable ones since its done in homes where families are already living. Follow the NBC's American Dream Builder's Pinterest boards for lots of inspiration!
What do you look for that are must haves in your kids' rooms?
In our kids' rooms designs, I've always looked for the five following areas, daydreaming for some of them, and others are a just a must in my book:
First, and foremost, a design I'm always after is a design my kids will grow into until they leave the house when they're 18. That usually means none of the cutesy stuff that I think is so incredibly adorable. I'm afraid in 5 years they'll be so over it but it might be fun to redo their room then anyway. I just don't want to have to redo it. Check out my Pinterest board with these kind of stunning design ideas for kids' rooms!
A Reading Nook: I oooh and aaah over many of the readings nooks I find on Pinterest. They all seem so inviting and cozy and what better way to encourage reading than to set up a dedicated space for it? This is an area I daydream about for our kids. I love to have a space that is dedicated solely for reading. Right now, we plop down in our bean bags and read together. But an entire space, like this one where they convert wasted space into a gorgeous, colorful reading nook from These Moments of Mine.
Creative Walls: The one area of our home that I get to have fun with colors is the kids' wall colors and design. I have odd stripes in Henry's room, a grid of colors in George's room and horizontal stripes in Louis' room. I love the colors in all their rooms and wish I had the guts to bring it into other areas of my home, but just can't. A colorful bedroom for the kids is a must for me. But not overly bright either!
Lego Storage: This might seem odd to include in a bedroom, but that's where our Legos are. In Henry's room. And soon it will be overflowing into George's room too. I dream of the day that I find a storage system that works for us. A Mom with a Lesson Plan has a great Lego shelf system and you barely even notice the Legos in this storage system shared by I Heart Organizing on Metropolitan Organizing.
Name or Initial Decor: Having their name in their room is a must for me. Either before they were born, or when they were babies, I have made each of my kids an initial or their name to hang on their wall. The possibilities are endless and there's such cute designs. If there were to be a #4 (there's not) I'd love to do a wall decal of their name, from LucyLews on Etsy!
A Homemade Quilt from Grandma: I have been blessed with a mom (and even my mother-in-law did) that loves to quilt. A homemade baby quilt from Grandma was truly appreciated, but even moreso, I love the quilts they've made for their 'big boy' beds. Quilts that they will grow into and love until they're 18 (so not all trains and ABCs and 123s). Browsing for quilt designs is always fun! I love simple designs with the focus on the colors, like this block quilt from Clothstiched on Etsy.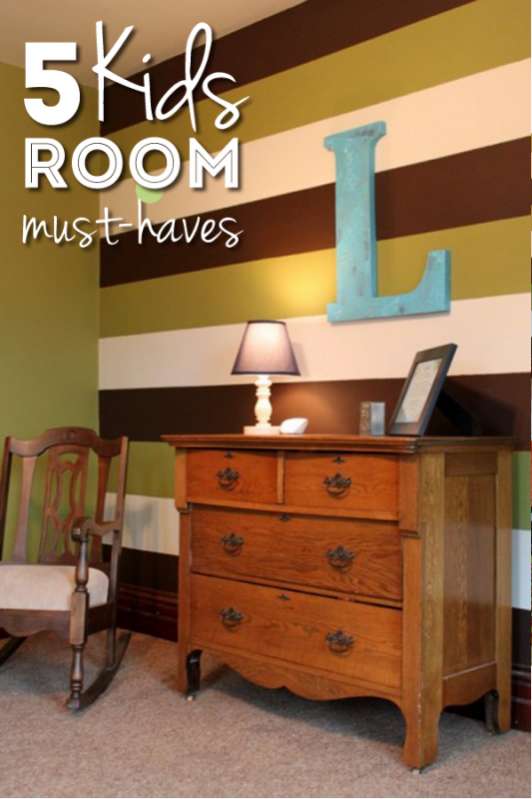 I am so excited for the new show on NBC called American Dream Builders, hosted by famed interior designer and best-selling author, Nate Berkus. I think this will get me back into my designing groove that I need to be in to actually decorate my house! I'm so excited to be inspired by the nation's top 12 designers and home builders as they compete to be crowned the Ultimate Dream Builder and take home a $250,000 cash prize.
It's the home competition that will change everything! The 12 designers are split onto two design teams, competing against each other to redesign two homes in just one week. And of course, the losing home/team loses a member of their team each week. Oh the pressure!
Get sneak peaks of American Dream Builders!
From the producers of Survivor and The Bachelor, don't miss NBC's American Dream Builders, coming this Spring – only on NBC.
Disclosure: NBC's new show American Dream Builders sponsored this post.