Campaign
SummerAll AgesGiveaway
Resources
Toys6 Comments
We recently received a powered ride on toy from Monster TRAX, the Dirt Racer 22. Something I swore my kids would never have… until my kids rode one of their cousin's and spent the entire afternoon riding around their back yard.
Monster TRAX offered me the Dirt Racer for the kids and I hesitantly accepted, because I knew deep down my kids would absolutely love it… and I'd be the cool mom! Score! (Guess what? You can be the cool mom too! Below I have an awesome giveaway for this Dirt Racer!)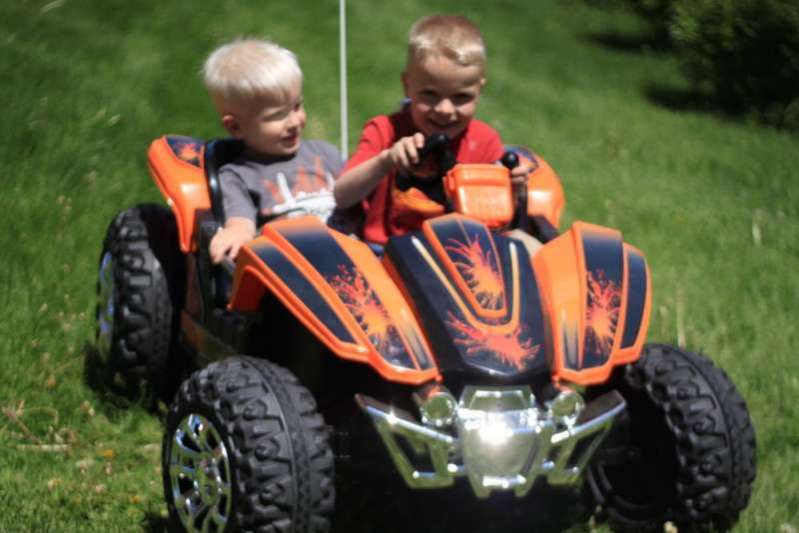 We have a super hilly yard… the Dirt Racer can manage it as long as only one of the kids is in it (specifications say its best for smooth, flat surfaces, which it definitely is). If both kids are in it and they're going up the hill, it shuts off and 'cools down' for a couple of minutes (awesome feature to have by the way).
Features I love about the Monster TRAX Dirt Racer:
Very cool looking, cool orange color (also comes in green).
Seats 2 up to 88 lbs. (Has 2 seat belts.)
Low and high gear, as well as reverse. (Max speed is 4.35 mph.)
Stays charged for the day. We've only had it run out of battery on us once so far, and that was because we took it for a ride downtown earlier on that day. (Specifications say it stays charged for 45 minutes of continuous use, but I think we've used it longer than that throughout the day.)
It shuts off if its going to 'overheat' because it can't take going up the hill.
The motor also holds it back when going down hills so it doesn't get going too fast.
It came mostly assembled (I believe the box said 80%), but there was still quite a bit to do and then it has to charge for 12-15 hours until it can be used, understandable, just good to know. The boys took that amazingly well and were satisfied with just sitting in it the first night.
The Dirt Racer has quickly become the highlight of our afternoons.
The boys ride together, taking turns driving, because they know if they don't, it will be taken away for the rest of the day, if not the following day as well. This toy hasn't been treated like other toys we have. It's a toy they earn to play with and they've learned that quickly.
Ride On Toys are Good to Have Around!
I recommend having ride on toys to ride around the backyard, especially in the summer. They help teach kids to steer, how to back up, how to drive in general. I could go on about what they're good for and how much use they will get (because of all the toys we have, the ride ons are the ones that the kids always come back to over and over).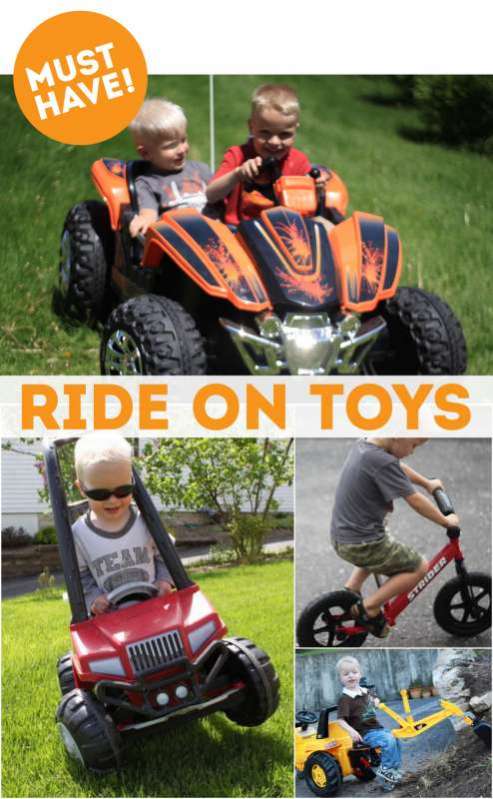 Here's my list (affiliate links) of 5 ride on toys to have for this summer that we have tried and approve!
Mega Bloks 3-in-1 Fire Truck Ride-On – there are many different versions of this (a dump truck and a wagon too) for different interests that your child is into. For us, this is an indoor ride on toy. We keep it with the blocks for building on and hauling stuff around in the house.
American Plastic Toy Utility ATV – this ride on is the one that has gotten the most use out of all of ours. We have also had it the longest and even though the plastic has broken on the seat and the dump box has come off because we left it out in the sun way too much, it is still used heavily by our boys. We will definitely be getting another one to get through Louis.
Kettler Cat Front Loader and Backhoe – this one is definitely for outside. Its huge and it needs something to dig… such as in the sand box, or a dirt pile if you're lucky enough to have one! Henry also uses it in the winter to help shovel the driveway! Seriously, its great for that. It's great for the kid that likes to 'work' and help out whenever possible! It also gets taken downtown quite often (both my 5 and 2.5 year old love it), the backhoe comes off to make it easier to drive around.
Strider ST-3 PREbike – This balance bike I highly, highly recommend! George is mastering balance already because of this bike. My nephew learned to pedal a bike without training wheels before he was 3.5 because he started with a balance bike before he was 2. Its fun for the kids to coast around the driveway and garage with, plus it makes it on walks every once in a while.
Monster TRAX Dirt Racer 22 12-Volt Battery-Powered Ride-On – for all the reasons listed above! Its become the go-to toy very quickly and I don't see anything changing that (except for misbehavior!).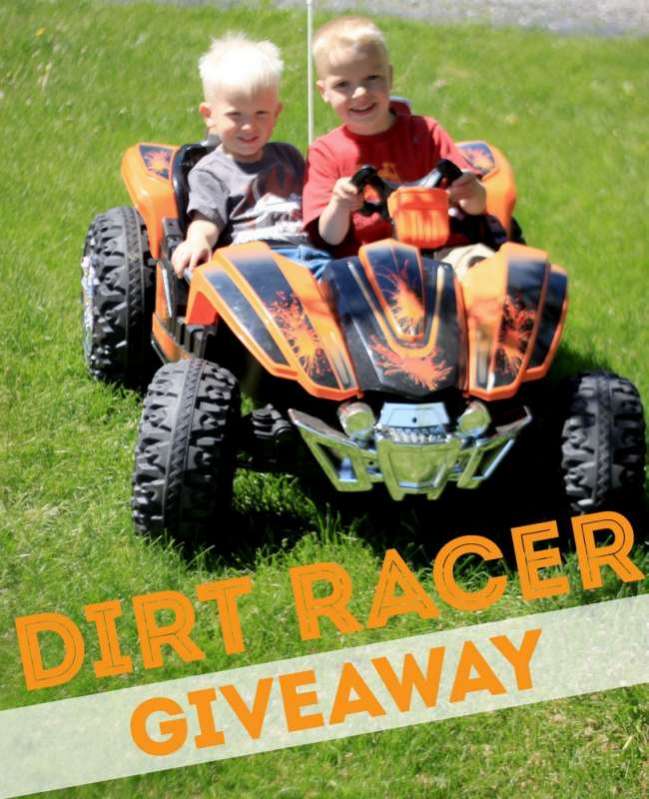 Be the cool mom! Win your own Monster TRAX Dirt Racer:
As promised. I have one of these Dirt Racer 22's to give away!
You can enter to win this pretty easily with any or all of the following entries, just share that you did it in the Rafflecopter form below:
Share a photo of how happy your child will be if you win the Dirt Racer on Monster TRAX Facebook Page
Follow Monster TRAX on Pinterest
Follow @MonsterTRAXtoys on Twitter
Sign up for the Monster TRAX newsletter to keep up with all their cool toys!
This is a sponsored post written by me on behalf of Monster TRAX. I received the Monster TRAX Dirt Racer 22 along with compensation to review. All opinions are 100% mine.