ActivitiesPreschoolers30 Days to Hands on Play
Reading15 Comments
DAY 14 CHALLENGE:
ACT OUT A STORY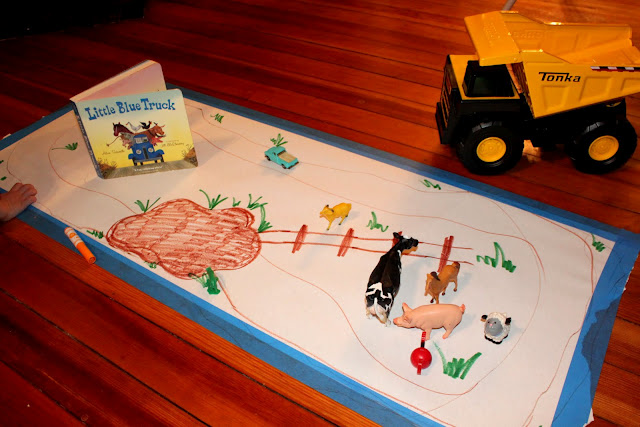 Today we're digging into your imaginations (as well as memory!) and bringing a story to real life!
Read a story, or have your child tell it from memory and play the parts.
Bring the story to life!
I recently read about this Comprehension Story Walk at Fairy Dust Teaching that could be adapted to most stories.
I started with the road for our story, The Little Blue Truck (affiliate link).
(Our story really had a road, but this can be used metaphorically as a timeline for the book.)
Then add the characters of the story (you and your kids, or toys that can play the part).
Depending on the story of the book, you'll want to adjust the activity to it.

DAY 14 CHALLENGE:
Spend (at least) 15 minutes of uninterrupted* time reenacting a favorite story of your child's! I say a 'story' and not a 'book' and mean that as a book that has a story line: characters, a plot with a beginning, middle and end.
Take a few minutes to read the story first before starting to act it out. This will get the story fresh in your child's mind.
When finished reading, ask your child questions about the story and go from there. Asking what happened in the story, with "props" at hand, start explaining the story to each other:
Who said "hi" to the Little Blue Truck when he came rolling by?
Then who drove by and Honked?
What happened to the Big Yellow Dump Truck?
Who helped the Dump?
How did they get out?
(*uninterrupted : being present with the child. No technology, phones, television, computer, etc. No errands, chores, making dinner, etc.)
IDEAS OF OBJECTS TO USE:
A favorite story book.
Just you and your kids, acting out the parts.
A piece of paper with markers. Draw out the story line with your kids.
Use toys for characters, objects in the story and so forth.
Use your imaginations!
---
Share your story with us!
Comment here as well as see what others did on The Play Network.
---
This 'Challenge' is meant to get you started, to spark your creativity with your kids (and their creativity!). Your child may not be interested in this specific challenge, and that's okay! Have another go at a previous challenge, or don't be afraid to just sit and play with them and see where they lead you.
The Imagination Tree
will have tomorrow's challenge for Day 15!
A badge for you to share that you're taking part in the Play Challenge!
Share it and be proud to play!
Its not too late to get started!
See what this challenge is all about and how you can join in:
30 Days to Hands on Play Challenge.
Jump in at any time, or go back and start from the beginning!