Fine MotorToddlersGrade SchoolKindergartnersPreschoolersIndoor Activities
Matching
pool noddles
Recycle3 Comments
We've put together a collection of things to do with wine corks. Try out some or all of these fun and simple wine cork activities for kids!
Who knew kids could have so much fun with recycled corks! There are so many different ways that they can be used to improve fine motor skills.
One of my favourite things to do after the kids go to bed is to chill out with a glass of wine, enjoy the peace and serenity, and reflect on my day that I've had making memories with my kids.
However, as I open the bottle, I've been thinking of different activities that I could do with wine corks.
So I started saving them.
If you don't happen to have a collection of these at home they sell recycled corks online in a variety of places. Like this listing on amazon.
Fun and Exciting Wine Cork Activities for Kids
Wine Cork Blowing
Oh my, did my daughter ever giggle while doing this activity! She thought it was hilarious!
To do this activity, have your child use a straw to blow a wine cork around the house. As simple as that….so much fun!
My daughter even set up a cup obstacle course/maze to blow her cork through and we also used a party hat as a target.
Then she even tried waving a plate to move the cork.
Cork Tower Knock Down
For this actvity, set up a tower of cups and then have your child try to knock it down with the wine corks.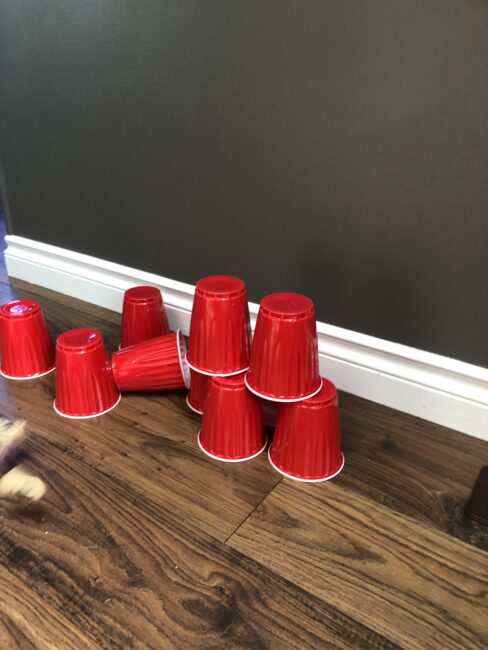 There was definitely a lot cheering going one during this one!
Wine Cork Cup Transfer
For this zero prep activity, have your child use tongs to transfer the cork from one container or cup to another.
Using tongs is an amazing way to practice those fine motor skills. Try out this other activity that uses block and tongs.
Wine Cork Bobbing
Fill a container with water, dump some corks in it and then have your child bob for the corks with tongs.
Wine Cork Matching
For this activity, you'll first need to collect a few pairs of matching wine corks.
Once you've done that, place them in a container and have your child find the pairs.
Matching games are really good for children to try to improve their focus and concentration. Try this other fun matching game with your kids too.
Cork and Popsicle Stick Building
This open ended activity is great for kids who just love to build things. My girls love building!
Give your child some wine corks and some large popsicle sticks.
Let their imagination run wild with this activity. It's so much fun! I bet you'll even want to join in the fun too!
Pool Noodle Push In
First, cut a pool noodle into small sections then place them on a pan.
Have your child push the corks into the centre of the pool noodles.
My girls loved doing these activities with all the corks. They were asking to do more.
Have you ever done any fun wine cork activities with your kids. Share your ideas with us.