Science
The Activity RoomToddlersGrade SchoolKindergartnersPreschoolersExperiment
Kitchen
Member of the Month4 Comments
Joana shares a simple and fun washing hands science experiment using supplies you already have at home.
No-prep and no mess it's sure to impress!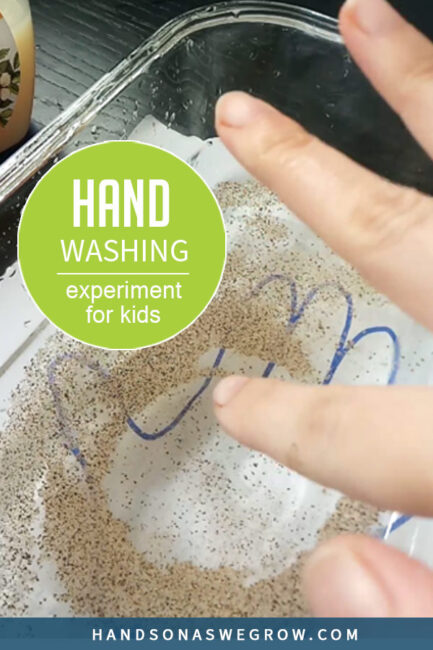 "Creating a connection with our children is very important. And if we have a moment, even 15 minutes a day, to be truly with them it will certainly strengthen this bond. And of course, play is always the best way for everything. Playing makes boring moments special memories!"
Joana is our Member of the Month. She is a science teacher that is staying home full time because she wants to be with her 2 children forming those strong bonds.
Joana joined The Activity Room through an online challenge a friend shared with her. She was pregnant with her baby girl and her energy was at an all time low. "I worked all day and I love to play with my son but it is so difficult sometimes. So, joining ROOM helped motivate me to play because I had a monthly plan, a support community and a happy son, when I did the activities with him!"
You can get right into strengthening that bond too with Joana's Hand Washing Experiment she shares at the end of this post.
The Activity Room Was the Answer for Joana
Before joining The Activity Room, Joana would get lost in Pinterest searches like many of us do. She struggled to get organized and find activities for her son that were appropriate for his age and personality. "And that made me not do certain activities because I thought they were difficult, because I thought that my son would not like them."
"I struggled mainly with gross motor activities. That's what captivated me! When I saw The Activity Room challenge, with practical activities that helped to expend energy! And then it was a surprise because I managed to do an activity every day, with few materials. And my son loved it! I feel very happy about that!"
Joana is now an active memory maker with her kids! "The fact that we have an activity plan and support in the Facebook group, facilitated and motivated the times with my son!"
It's the Process, Not the Result
The biggest gift The Activity Room gave to Joana, was realizing that the process was just as important, if not more, than any end result. It's all about learning and engaging with our kids. The process is where the memories are created.
And Joana's washing hands experiment she shares with us later is ALL about the process.
"Room helped me to see that the process is a huge part of the activity and not just the result! Sometimes, I see an activity fail and the people in the Facebook community see an activity win! That is something!!"
She also learned a few other tips she wants to share for being successful at activity time:
1. I find a good time to do an activity, when I'm in a good mood and my son is too! Pick a time when you are both mentally and physically able to spend the time and focus. Trying to do an activity when one or both of you are hungry, tired or distracted will make it much more difficult to feel successful.
2. Find a space appropriate for a certain activity. For example, I use the bath to do some activities to contain the mess and this time is a favorite time with me and my son! If you are worried about mess, maybe take it outside or to an area easiest to clean. Avoid creating unnecessary stress by imagining ahead of time what clean up will look like. Lay down a sheet or shower curtain before you begin.
"I think I am more organized, more motivated and I feel I'm exactly the mom I want to be for my son and daughter!"
Let's Meet Joana
How many kids do you have and how old are they?
Two: Rodrigo: 4 years and 2 months and baby girl Matilde: 8 months
Why do you love doing activities with your kids?
It is a way to get to know them better, to connect with them, to create a closer relationship and of course, it is one of the things I most enjoy doing: being with them!
How long have you been in The Activity Room?
Since January 2020
What is your favorite activity you've done in The Activity Room?
So many fantastic activities … but the first ones end up being recorded in memory: make a run by jumping into the pillowcase and making snowflakes with salt!
Don't forget to check out the hand washing experiment Joana shares with us at the bottom of this post.
What's your favorite thing to do with your kids when you get a few moments?
Science Experiments
What's your best tip for doing activities with your kids?
Choose a time that the child is most predisposed and adaptable! When they are not so motivated we can choose something that they like as a way to captivate them … in my case, the eldest loves cars and the paw patrol, so in most activities there are always cars in the mix!
If you were to tell a friend about The Activity Room, what would you say to them?
The Activity Room is my support, my motivation and inspiration to me.
Before The Activity Room I spent a lot of time researching activities and, many times, I couldn't decide … I often got discouraged because I saw something cute and I couldn't seem to do anything with my son …
Now with The Activity Room I can really do activities, be inspired by the community and want to do more activities! And above all, the motivation is greater!
Being part of The Activity Room and the Facebook community made me realize that the final results are not always the most important, but it's the process. Sometimes I thought I was facing an activity-fail but it was an activity-win after all! And for that eye-opener, to see the activity as a whole learning experience, I am more than grateful!
Share your favorite quote
Find Joy in the ordinary!
The Importance of Washing Hands Experiment:
This is a super simple science experiment that is all hands on and so fun for kids!
A great opportunity to discuss the importance of washing hands with your little ones.
To Do This Hand Washing Experiment You Need:
water
liquid dish soap
a transparent bowl
a white sheet
and a marker
This Is How to Do the Washing Hands Experiment at Home
First, start by tracing your child's hand on the sheet of white paper.
Then place it under the transparent bowl.
Next, fill the bowl with water and spread some pepper on top.
Now dip your finger in some dish soap.
When you touch the water you can watch the pepper all move away to reveal a clean hand below!
Tips: only a little pepper should be used; it also works with milk.
That's it! So simple and easy to do this washing hands experiment at home.
I love the fact that the activities are done with simple things from our daily lives … and I really love the mutual help and sharing of the community on Facebook even more!