Fine Motor
Literacy & ABCs
Math & 123sPreschoolersKindergartnersToddlersLetters
Numbers
Painting
Tracing
Water Activities2 Comments
This was a revisit on our toddler's version of painting with water on the chalkboard.
Now that my kids are not toddlers anymore (ah! When did that happen?), I added a tad bit of learning to the simple activity.
I had George and Louis each grab a dish from the cupboards and fill it with water. While they did that, I wrote letters for Louis on the chalkboard, and numbers for George.
We are super lucky to have this chalkboard. It was left in the garage when we bought our house, and it has been used quite a bit.
However, if you don't have a giant chalkboard like this (this post contains affiliate links), you can still do this activity. It will work nicely on a whiteboard with dry erase markers (bonus, you can even use dry erase markers on a window)! Or head outside on the sidewalk with sidewalk chalk.
I grabbed two paintbrushes for them.
I quickly painted (traced) a letter with the water to give them an example of what to do.
Then I called out a letter (and a number for George). They would look for the letter or number and then erase it away with their paintbrushes.
Louis still is getting the hang of letters.
Instead of expecting him to know the letters I called, I'd first say: "Find the letter I to erase."
With a little pause, then I'd continue, "Here's the letter I." and point to it.
As he was tracing it to erase it away, I'd continue on, "What letter are you erasing Louis? (pause) That's the letter I."
I did this as much as possible to reinforce certain letters.
I didn't do it with every single letter, because juggling two kids asking questions was enough. But also because I didn't want him to think I was quizzing him constantly.
He needed a break to just enjoy it too.
After our initial set of letters and numbers were traced and erased, something fun happened.
George wrote letters and numbers on the board for me and Louis to erase.
I loved seeing him take lead of a project like this.
But also because it got Louis really involved.
Learning isn't really learning when its your big brother teaching you, is it?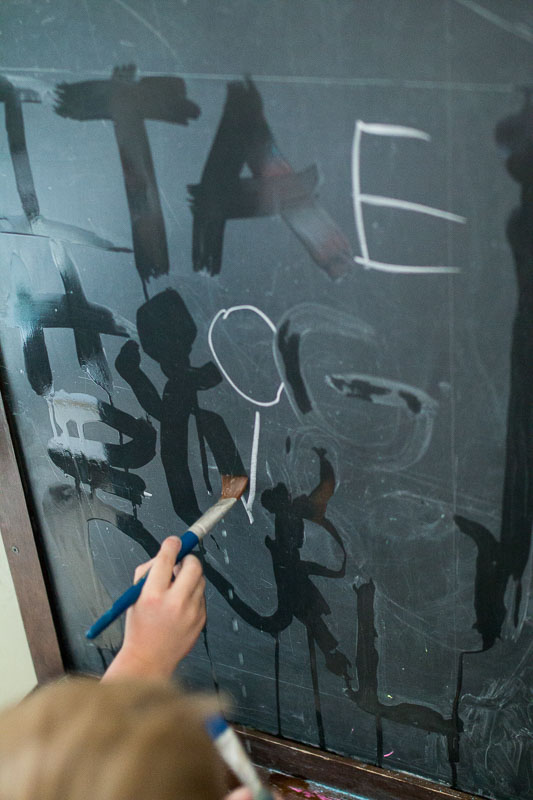 George would call out letters for me and Louis to erase, taking turns between the two of us.
And even after that was done, the fun continued.
Louis scribbled on the chalkboard, too. Making lines and marks for himself to erase away with the paintbrush.
I started this activity about a half an hour before I started dinner.
We got through the initial part of the activity before I started dinner. And then the boys continued on the fun until dinner was on the table. They were easily entertained.
They even kept getting this out throughout the week, again and again. It was a total winner.