BlogHer
Gross MotorAll AgesFamily79 Comments
When a family spends a lot of time at sporting events, it's easy to get caught up in the schedules and overlook the time spent together. These empowering hand signals that we do are "secret" messages from mom or dad as their kids play.
It's a family code to tell kids, "I love you and you are doing awesome" or "you can do it!"  while building up encouragement to help kids know they are loved no matter what the score… from the sideline. They are perfect for kids that like to move!
As a mom to four kids who love to be active on sports teams, I know that playing organized sports help kids go on to bigger things. From learning to play with others, follow rules, and work towards a goal, sports help kids grow while being active.
When I had the opportunity to partner with L'il Critters™ Gummy Vites™ and come up with ideas to help my kids be the best they can be in any of their favorite activities, I was excited to help my kids go on to do big things with a gummy vitamin brand that kids love.
Encouraging Cheers with Secret Family Hand Signals
At the moment, we have kids who play t-ball, softball, and baseball. When kids are out on the dusty ball field, it can be easy for kids to get swept up in the action of the game and become overwhelmed by the score, plays, and how they are doing on a particular day.
These secret family hand signals are a creative way to let your kids know from the sideline that they are doing great and no matter what the score, their parents are proud of them.
A simple thumbs up might tell your child that they are loved in the midst of a fast-paced soccer game. A quick message of encouragement can build up a child no matter how they are doing on the field!
What a fun family habit to start, right? These are healthy habits to encourage and build your child's confidence. Add in a healthy habit of taking a daily L'il Critters™ Gummy Vites™ to make your child strong, they'll be ready to go!
We came up with a few hand symbols together as a family that can be used during games:
Two thumbs up means "I love you and you are doing great!"
One fist in the air means "Keep going! You've got this!"
Two hands up mean "You are doing awesome!"
A hand over the heart means " I love you!"
Clapping overhead means "You can do it!"
Family sports sideline encouragement symbols can be customized to meet the secret message needs of your family.
Make them creative and work on them together as a family.
It's a great way to spark conversation while creating the secret codes and build family bonding over sports.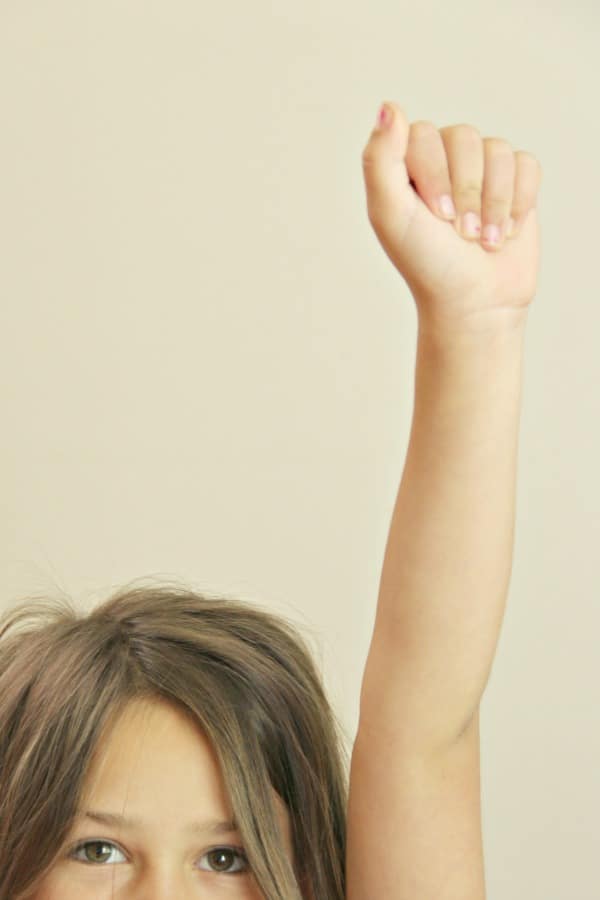 These messages are a perfect example of sideline encouragement, telling kids that they can do whatever they put their mind to. It's a message that L'il Critters™ Gummy Vites™ encourages while giving kids essential nutrients they need to go on to do big things.
I was surprised to find out that L'il Critters™ has been such a delicious kid's gummy vitamin and supplement since 1998. My kids love the tasty vitamin without any chalky aftertastes and that it's not a hard-to-swallow pill. Also important to this busy mom is the fact that L'il Critters™ Gummy Vites™ are gluten-free, and are made with natural fruit flavors and colors derived from fruits, vegetables and plants.
The fact that they have no high fructose corn syrup and no synthetic (FD&C) dyes makes me happy to share these great tasting kid's gummy vitamins while supporting children's healthy habits.
Playing sports supports a healthy lifestyle for kids and families.
It's important to get the recommended daily intake of fruits and vegetables for learning, growing, and performing in active sports. But, it can be so hard to get that 1.5 cups of fruit and 2-3 cups of vegetables a day into busy kids. An on-the-go lifestyle or picky eaters can make it extra difficult to ensure kids are getting adequate nutrition. L'il Critters™ gummy vitamins help establish healthy habits, provide essential nutrients, are great tasting, and are made with natural fruit flavors and colors derived from fruits, vegetables and plants.
We got into a habit of starting our day with a glance at our family calendar to see if we had a sports outing planned while passing out L'il Critters™ Gummy Vites™ to my kids. My kiddos came to love our little morning routine as we tried to figure out a new sideline hand symbol for the day's game. It was a time to connect at the start of each day. It is the #1 kids gummy vitamin brand and is a fun and delicious way to support your kid's healthy habits.
L'il Critters™ Gummy Vites™ are great for supporting their children to be the best that they can be, in whatever their favorite activity, just like your own family sports sideline encouragement cheers! 
When you are supporting your l'il scientist, l'il explorer, and l'il architect and l'il sports star, grab the gummy vitamin brand that kids love and parents trust! You can find them at all major retailers, such as Walmart, Target, Costco, Walgreens, and CVS. Read more about the brand here.
Follow L'il Critters™ Gummy Vitamins on on Facebook.
Need more ways to get your kids active? Try these Gross Motor Activities!
Does your family have Family Sports Sideline Encouragement Cheers?  What are they?