Activities
Fine Motor
ThinkingToddlersGrade SchoolKindergartnersPreschoolersIndoor Activities
PuzzlesLeave a Comment
This puzzle play mix up activity creates a new spin on puzzles that your child may have outgrown or with puzzles that have been completed over and over again.
Putting together puzzles is a fun activity for all ages, young and old, and can create such fun memories together.
Check out this Puzzle Learning Trick for another great puzzle play twist.
Supplies Needed For Puzzle Play Mix Up:
A large bowl
A pair of tongs
Let's Mix It Up:
The preparation for this puzzle play activity is definitely part of the fun.
Take the puzzles and have your child dump or place the pieces from all of the puzzles into the bowl.
We chose to use three puzzles.
Then have your child use their hands or the tongs to mix up all of the puzzle pieces.
Your puzzles are mixed up and ready to play your puzzle mix up activity!
Puzzle Mix Up Activity Playtime:
Take the puzzle trays and place them around or near the bowl.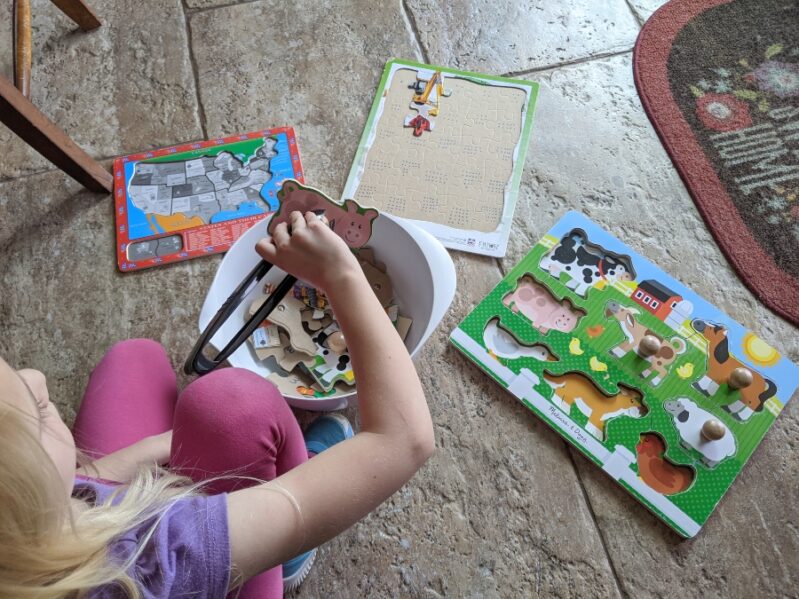 To play, have your child take the pair of tongs and use their fine motor skills to grab a puzzle piece.
Once they successfully grab one puzzle piece with their tongs, they then take the puzzle piece with their hands and place it into the correct puzzle tray to rebuild the puzzle again.
If you find that using the tongs is too difficult for your child, it's totally fine for them to just pick out the puzzle pieces with their hands as well.
This Block Pick-up Activity with Tongs is another great activity to try!
This activity can work with all types of puzzles, as long as they have a tray in which to place the pieces.
Once all of the pieces have been grabbed and placed into their corresponding puzzle trays to rebuild the puzzle, the activity is complete.
Puzzle Mix Up Play Variations:
Choose which puzzles work best for your child to play with based on their age, puzzle skill level, and time you have for this activity.
You could even choose puzzles of the same theme. For example, all animal puzzles or dinosaurs.
Here are over 35 Dinosaur Activities for more theme fun!
If you're looking for a step up in difficulty, use puzzles of all the same style. For example, use the flat, cardboard puzzle trays versus the wooden puzzles with knobs.
This activity can be taken on-the-go as well, just grab a few puzzles as you head out the door and find a space on the floor to mix up the pieces.
However you decide to play this puzzle mix up activity, it's sure to bring about plenty of puzzle fun.
How have you used puzzles in other activity twists?
Please share in the comments below.