Big Art
Gross Motor
SensoryKindergartnersPreschoolersToddlersPaintingLeave a Comment
There are so many fun ways to paint with kids! Try a new twist with potato drop painting from Brigitte!
I'm not sure if you're aware, but I kind of love painting. Watching my kids' creativity come to life is so incredible.
Plus, it can be as messy or clean, big or small as you'd prefer. The options are endless!
Of course, you can use paint brushes, stencils, sponges, and fingers. But have you ever tried painting with potatoes?
Outdoor Messy Fun Potato Drop Painting for Kids
I am calling this simple outdoor art project I recently did with my daughters a potato drop painting.
Why?
Because it involves dropping potatoes covered in paint!
To do this art project, my daughters and I headed outside with our supplies.
Ready to make your own potato drop painting? You'll need:
Soft potatoes, cut into large chunks
Whole soft potatoes
Washable tempera paint
Roll of brown paper
Disposable plates
Craft sticks.
We rolled out the paper and set some bricks on the edges as weights. Then, we stuck craft sticks in a few of the potatoes pieces so they were easier to hold.
To make it easier, we squirted a generous amount of paint onto several paper plates, one color per plate.
We were ready to paint!
Super Silly & Simple Potato Painting
My daughters each selected their first potato. It does sound rather silly, doesn't it?
They dipped it into their desired paint and then dropped it onto the brown paper!
Watching the paint splat was so satisfying.
My daughters kept on experimenting with their potato drop painting methods. I loved the questions they asked!
What happened when it was dropped from higher or lower?
Did size matter?
How did it change if the drop was angled? Or upside down?
What if I swung the potato around some before I drop it?
They really got into the dropping potatoes to paint idea!
More Ways to Create with Potato Drop Painting
But they weren't done with just dropping.
Instead, they totally took charge and experimented with different ways to paint with potatoes.
They rolled paint-covered potatoes across the paper.
They threw the paint-covered potatoes. Great gross motor practice!
And they used the potatoes as stamps on the paper.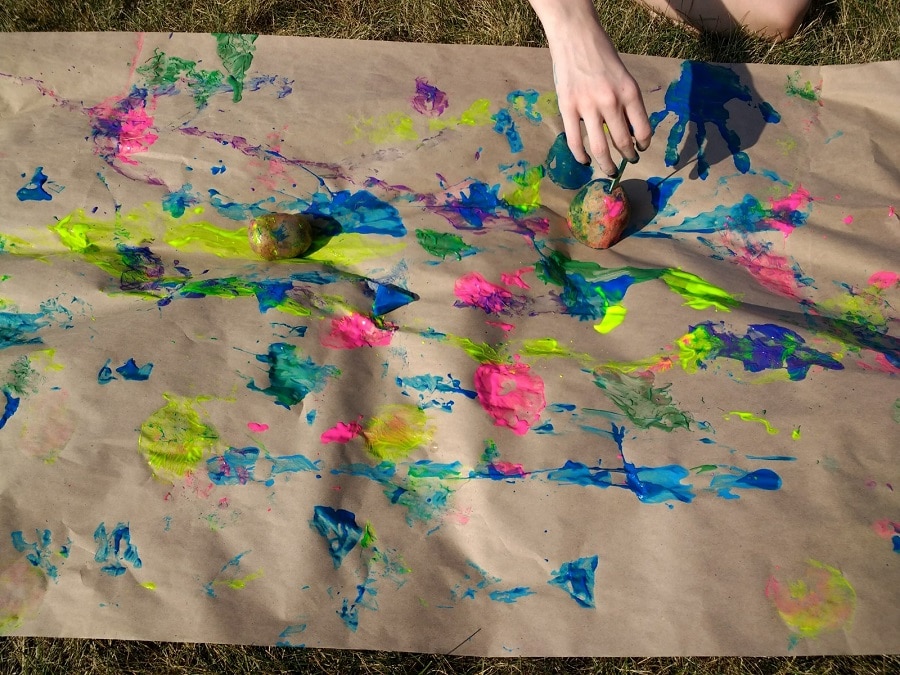 I had only given them three colors: blue, yellow, and pink. But they decided they wanted more colors, so they experimented for a little bit.
Kids love experimenting and creating with color mixing!
They ended up making green with blue and yellow paint. This was quickly followed by purple made with blue and pink paint.
After all of the dropping, rolling, and throwing, they finally decided they were done.
The best part of this outdoor paint project (for me at least) was the easy clean up!
All of the paint-covered plates and potatoes went into a grocery bag. And all of the paint-covered body parts were washed outside using the hose.
What is your favorite outdoor art activity? We'd love to try some of your favorites!