Big Art
Gross MotorToddlersPreschoolersGrade SchoolKindergartnersPainting
Vehicles1 Comment
I've had a mild panic attack lately. My littlest, Louis… well, he's almost out of the toddler stage. He's 2 1/2 already and is learning things left and right.
I have so many toddler activities I've wanted to do with him that we just haven't done! It's time to start checking some of these off the list!
And Big Art is one of them. I haven't really had Louis explore art in a big way like this. Henry enjoyed it so much at this age. It's a perfect way for toddlers to get creative when they're not really the type of kids to be creative.
I absolutely love Big Art because it also get the kids involved in the art. It gets them moving! Its fascinating!
We've painted with trucks before, its a great painting activity for toddlers!
But this time… I asked my preschooler, George, if he was interested in painting with some trucks outside. Sure! He was all for that.
I gave him the choice if he wanted to paint directly on the sidewalk or onto a long roll of paper. He chose to paint the sidewalk.
I brought out three trays to spread paint on. I added dish soap to the paint to make it easy to clean up. You could also add corn starch to this mix to make it more like sidewalk paint, but we didn't. I was all for making this as simple as possible.
And then I just let the kids go at it!
They picked out their trucks from the sandbox and brought them over to paint with.
The boys rolled the tires through the paint and then took off down the sidewalk!
Some trucks were too big for my trays, so that took a little bit of finagling.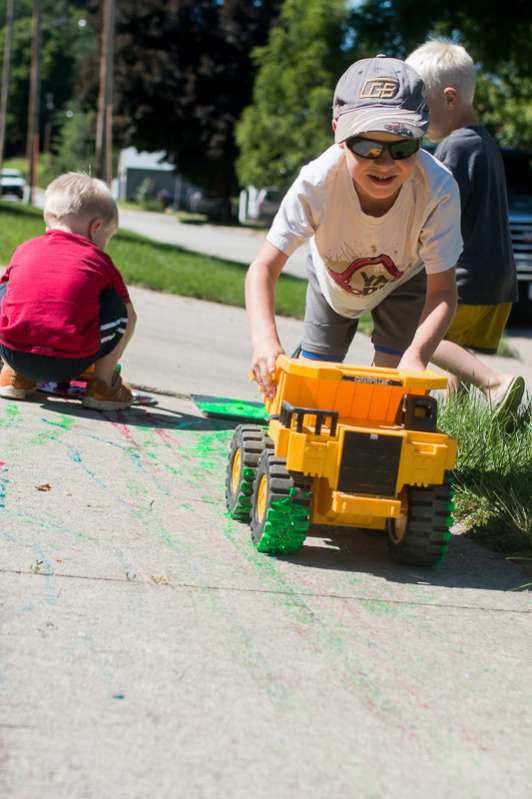 George was disappointed with the paint results. He wanted to be able to drive back and forth, and the paint make tracks however he drove.
The paint did not go on the sidewalk very nicely. It did for the first couple of feet and it was gone.
I suggested they try to just push the trucks to see how far they could get the paint to track. (George didn't like my suggestion…)
It ended up just being a super fun way for them to run and push the trucks back and forth, making tracks as they drove through the paint. Loving every minute of it.
I ended up removing the trays completely and just squirted paint directly on the sidewalk for them to drive through.
This left some pretty cool effects.
This was super fun, super easy and the boys are asking to do it again.
I think I captured the fun that Big Art really is!
Cleanup was probably more fun than the activity even! It was a hot day, so I let the boys wash off all their trucks with the hose! They all ended up soaked and in giggled. Another big win!
This Big Art painting with wheels is one of the Paint-A-Thon of 101 Painting Ideas for Kids shared over at Emma Owl. During the month of August, there were be a few different painting ideas added every single day! Take a look at them all!