Activities
Art Projects
Fine Motor
Math & 123sPreschoolersColors
Patterns2 Comments
Mosaic pattern art is a great way to get creative while practicing fine motor skills, too. This fun art activity for preschoolers from Julie is a simple and fun idea!
In our house, we keep learning fun and most importantly, hands-on! You'll love this low-prep mosaic pattern art fine motor activity!
We extra love mosaic pattern art because it combines so many different skill areas. With just one activity, you can practice math, art, and fine motor skills!
Super Simple Fine Motor Mosaic Pattern Art Activity for Kids
This art project is all about the process, not the product.
One of the best parts of this activity is that it's so simple to prep. All you'll need are a few materials you can set up in one minute.
Here's what we used:
colored paper
safety scissors
glue
How to Make Your Mosaic Pattern Art
First, we cut the paper into squares.
Since my son is working on scissor skills, I cut the paper into long strips. Then he snipped off squares from each strip.
Once we had a bowl full of squares, my son made a line of glue across the top of his paper. He arranged colored squares one by one.
Then we talked about repeating patterns! I helped him repeat the color pattern across the top line.
Your child will love creating patterns with Legos!
On to the next line! My preschooler wanted to make each line have a different pattern.
He had fun laying out the pattern one square at a time.
Sometimes I suggested the wrong color on purpose!
This helped him practice error analysis and explain the reasoning behind his repeating pattern.
Dig into more fine motor activities in the garden — with a sensory twist!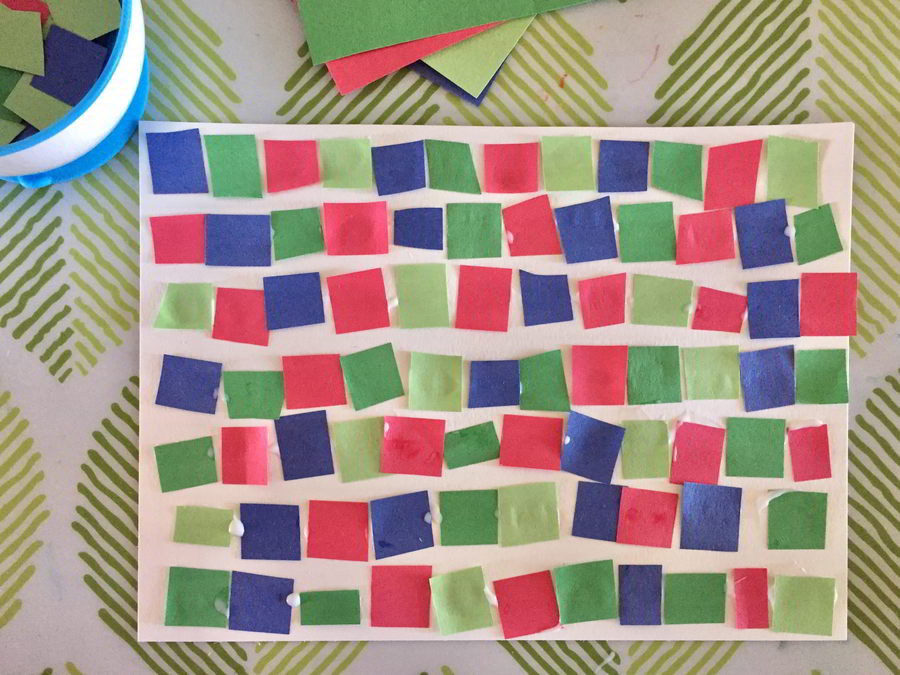 The finished product was a modern art mosaic masterpiece, with a bit of math in the mix! I love that this activity combined so many preschool skills, and yet was so simple.
Learn more about how to promote fine motor skills with these simple materials!
How will your preschooler combine fine motor skills, math, and art? Share your thoughts below!