EasterToddlersKindergartnersPreschoolersEggs13 Comments
Making these marbled Easter eggs definitely doubles as a fun sensory activity!
Finding ways for young kids (under 4-ish) to decorate Easter eggs can be tricky sometimes. They don't have the patience to sit and hold an egg in a cup to make it two colors.
Or the ability to really do the fancy decorative eggs either.
Make marbled Easter eggs that little kids as young as 2 can do!
It's a super fun process!
All you'll need to decorate these eggs is a tray of shaving cream and some food coloring! That's it!
Fill a tray or a pie plate with shaving cream.
Drop in several drops of two different colors of food coloring. Gel coloring works great.
Gently drop hard-boiled eggs, one at a time, into the shaving cream mix and roll it around.
One way to roll the egg around is by tipping the plate back and forth. This can be a bit tricky for little hands to do.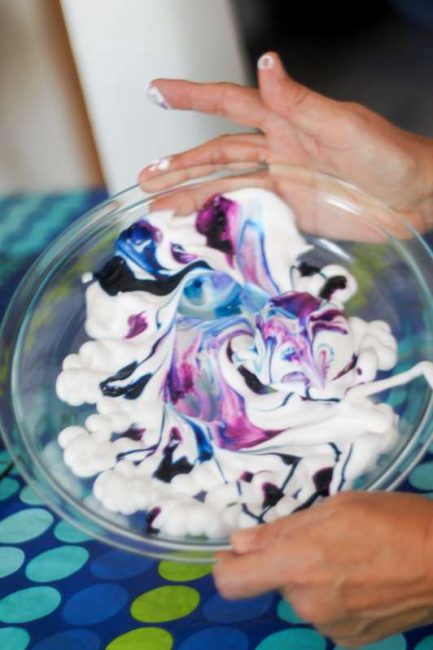 Or use a spoon or your hands to physically move it, which leads to amazing sensory fun for the kids that they'll love!
Be sure to cover the eggs completely with food coloring. Let them play and decorate each Easter egg as long as they like!
Take them out, covered in shaving cream and let them sit for a bit.
Then wipe the shaving cream off the egg to leave a really cool marble effect.
Want more ways to decorate your Easter eggs this year? Try one of these 26!
What's your favorite way to decorate Easter eggs?