ParentingPreschoolersReading3 Comments
So your family or your child has lost someone (or something) important and suddenly, the subject of death is on the table. Maybe you are navigating your kiddo's first experience with grief and loss. This is tough stuff!
Luckily, I am here for you. Below you will find a list of psychologist (that's me) approved picture books that are excellent primers to death, grief, and dealing with sadness. And on top of that – I am going to give you a few specific tips and tricks for dealing with grief using Margaret Wise Brown's book, The Dead Bird.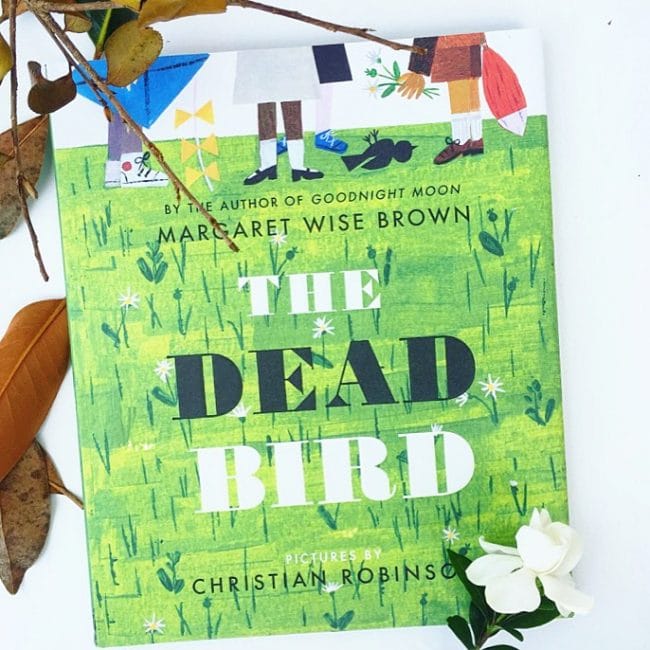 How we deal with death is so contingent on culture, religion, age, and experience. So before we dive in, it seems important to say a little something we can all agree on:
MORE ACTIVITES YOU MIGHT LIKE
Not everything that hurts can be kissed and made better. Grief is a skill that needs to be taught with openness, curiosity, and patience, and the very best place to do that is in the home, in the context of a loving relationship. Thankfully, there are some truly lovely books that bridge the gap between your knowledge and limits and your child's needs and experience.
Great Books to Start Conversations about Grief, Loss, and Death with your Littles:
The Dead Bird by Margaret Wise Brown – 2-4 yo
Boats for Papa by Jessixa Bagley – 2-4 yo
Flat Rabbit by Bardur Oskarsson – 4-up
Life is like the Wind by Shonna Innes – 4-up
Tear Soup – 4-up
Peach and Blue by Sarah Kilborne – 4-7 yo
Grandmas Gloves by Cecil Castellucci – 4-7 yo [terminal illness]
Death is Stupid by Anastasia Higginbotham – 7-10 yo
Life and I by Elisabeth Larsen – 7-10 yo
Duck, Death and the Tulip by Wold Erlbruch – 7-10 yo
Cry, Heart, But Never Break by Glenn Ringtved – 7-10 yo
The Heart and the Bottle by Oliver Jeffers – 10-12 yo
Michael Rosen's Sad Book – 10-12 yo
My Fathers Arms are a Boat – 10-15 yo
Best Book for Preschoolers
My absolute favorite for preschoolers, as I said above, is Margaret Wise Brown's book, The Dead Bird (affiliate link), but get ready to shed your adult-ish needs for sentiment!
Preschoolers are very matter-of- fact about death. And even though the illustrations are beautiful, the words are sparse and to the point. It's cold, but developmentally appropriate and wildly brilliant.
A preschooler's chief concern after a major loss is typically whether or not their needs are going to continue to be met predictably. Their chief struggle is the concrete, finality of death. They know loss, and they know heartbreak, but their cognitive schema – the way they process events – is very concrete. Worrying over their schedule or their needs is simply the best way they know to grieve. Further, it is hard for a 3-5 year old to wrap their sweet little heads around the fact that death is irreversible.
Important Things To Communicate
During my time working at a psychiatric hospital, it wasn't uncommon for a family, having recently suffered a loss, to have one of their children try to kill a sibling. Not because they were evil – but because they just didn't understand! For this reason, I so deeply appreciate Brown's willingness to get on the preschool level and communicate two super important things:
Death is final; our bodies stop working and they get put in the ground.
It's perfectly normal to "play" at mourning.
As Fred Rogers has beautifully reminded us, "Play gives children a chance to practice what they are learning."
Hopefully I have provided some goodies to get you started, but remember – this is tough stuff. Get help if you need it. Communicating openness, honestly, and patience is of utmost importance. It is also impossibly hard at times. If you find yourself limited due to your own grief, get help. Make sure that your children's needs for warmth, shelter, and food, are met, and then simply reach out.
I have talked more in depth about grief on my blog and on my Instagram page @afriendlyaffair. Check the hashtag #afriendlybookseries for some great book suggestions and reviews on this difficult subject. If you are keen to have more great book reviews and expert tips for engaging your precious ones, sign up for my newsletter – here!