BlogHerPreschoolersKindergartnersBlocks
Gift Guide
Toys
I have three boys that just love to build with blocks.
The creations they make is incredible to me, their imaginations soar when they're building. And then they play with it for hours afterwards (or until their little brother may knock it down).
Blocks are so open-ended that we've done many activities with them, they're incredible for learning opportunities!
When I was a little girl, I remember playing with blocks just like they do. I have two brothers, so I was always surrounded with these 'boy toys'. And I was never the girly girl, so it never bothered me to play with a boy's toy.
But, honestly, most blocks you see on the market are geared for boys. You see red, yellow, blue and green blocks all the time. You see blocks to make helicopters, cars, trucks and more like that.
So, do the girls get left out?
What do you think? I was incredibly excited to be introduced to our sponsor, GoldieBlox!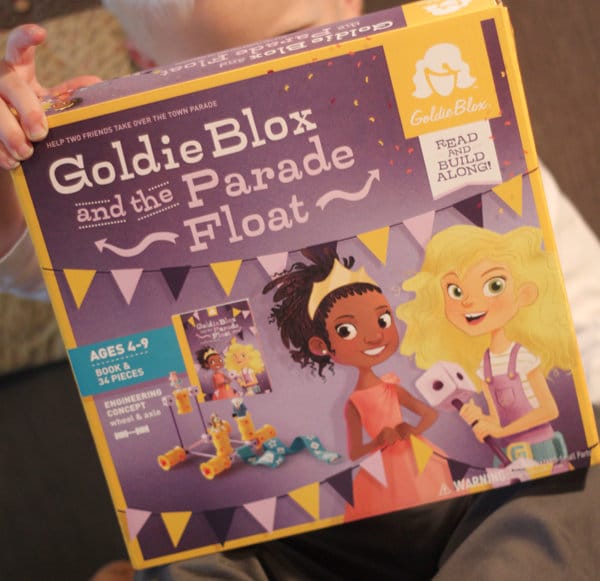 Blocks for girls!
Yeah, yeah, they're pink and purple. So what?
These were created by a young woman engineer, Debbie Sterling. A rare woman since only 11% of engineers are women.She has researched and researched how to get girls more involved in her field of work.
Like so many girls, Debbie Sterling was born an engineer…she just didn't know it.
She's working to inspire the next generation of female engineers through GoldieBlox – a construction toy that marries storytelling with engineering, and opens the world of STEM to girls ages 5 and up.
Watch the video to learn about the inspiration for GoldieBlox and the impact it's making on girls and their families.
Debbie is one of the newest members of #PassionProject, an American Express ® program designed to enable, inspire and encourage people to pursue their passion projects.
With #PassionProject, American Express is supporting a new generation of makers, creators and mold-breakers tapping into vibrant web communities to identify the stories of men and women living their passions every day. Not only does American Express showcase these inspiring #PassionProjects, but Membership also enables their #PassionProject to take the next step forward thanks to the strength of the American Express network. To learn more about the members of #PassionProject and watch their stories on YouTube.
GoldieBlox offers little girls an engineering role model who is smart, curious, accessible and feminine. They're blocks that come with a story to help young girls develop spatial skills, understand basic engineering principles and build self-confidence in problem solving. As young girls internalize and learn more effectively through storytelling, GoldieBlox marries the story of Goldie, the girl inventor who loves to build, with a construction kit.
Its absolutely adorable, and even my boys absolutely loved them!
George followed right along with the story and built the parade float with GoldieBlox and the Parade Float. He's three, so we did it together. He loved being able to see what he was building in the story!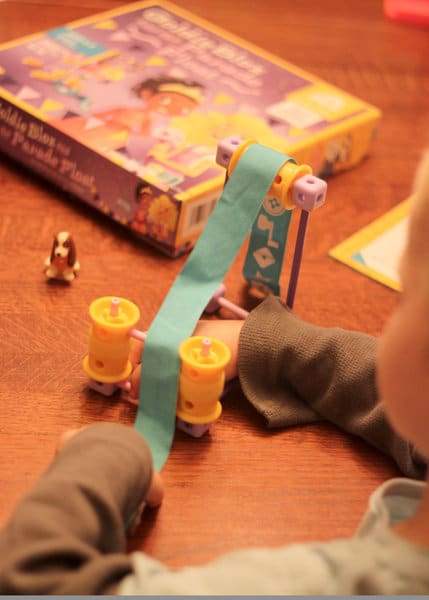 Henry jumped right in, without the need of the story and just looked at the pictures at the end of the story to see what else he could make. This could be a core difference between boys and girls, I don't know.
Henry and George even worked together (shocking!) to see what they could come up with!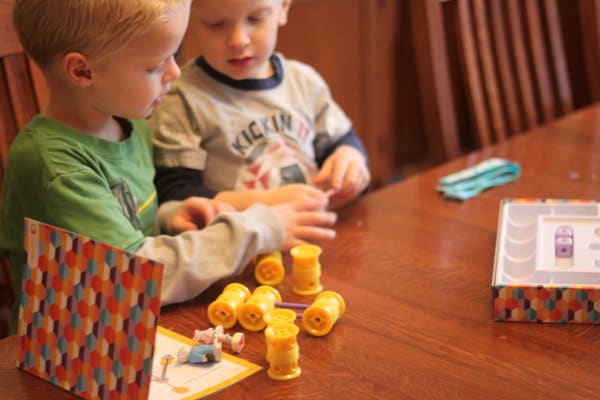 I am just astounded at this product, I love the story concept and I'm right with Debbie and hope that more young girls will become interested in building and constructing, because it opens up so many more possibilities!
GoldieBlox launched on Kickstarter in the fall of 2012 with the goal of raising $150,000 to fund production. Within four days, the goal had been met. Amazing! In 30 days, over 5,000 supporters had contributed more than $285,000. Less than a year later, GoldieBlox made its way from Kickstarter to the aisles of America's largest toy retailer, Toys "R"Us.
You can find more GoldieBlox products on their website. I'm excited to see what new products will be hitting the shelves in the coming year too!
How will GoldieBlox inspire a young girl in your life?
Comment to answer for a chance to win one of the GoldieBlox and the Parade Float! Sweepstakes Rules: No duplicate comments. You may receive (2) total entries by selecting from the following entry methods:
Leave a comment in response to the sweepstakes prompt on this post.
Tweet (public message) about this promotion; including exactly the following unique term in your tweet message: "#SweepstakesEntry"; and leave the URL to that tweet in a comment on this post
Blog about this promotion, including a disclosure that you are receiving a sweepstakes entry in exchange for writing the blog post, and leave the URL to that post in a comment on this post
For those with no Twitter or blog, read the official rules to learn about an alternate form of entry.
This giveaway is open to US Residents age 18 or older. Winner will be selected via random draw, and will be notified by e-mail. You have 72 hours to get back to me, otherwise a new winner will be selected.
The Official Rules are available here.
This sweepstakes runs from 11/22/13-12/20/13. Be sure to visit the Goldieblox Brand Page on BlogHer.com where you can read other bloggers' posts and find more chances to win!
This post has been graciously sponsored by GoldieBlox.