ActivitiesToddlersColors
Free Play
Play Dough19 Comments
Making tracks with trucks and tractors in Play Doh is nothing new in this house.
Instead of vehicles, today we tried food!
(play food)
Craters made from grapes!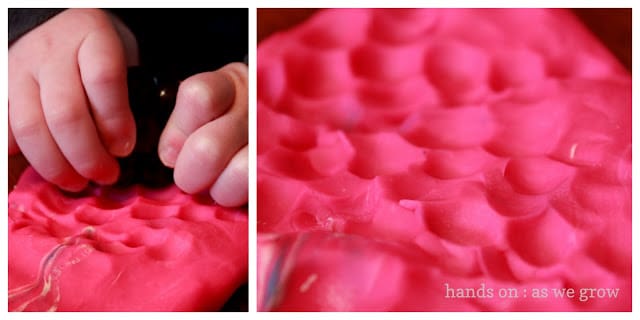 Corn on the Cob made nice rows.
And a fork?
It makes for a great tool to tear it all up!
While Henry was exploring the prints food can make,
I was dinking around creating Layered Play Doh Art!
(warning : if you have an OCD do not want colors to mix, do NOT do this!)
I started it…
but once Henry saw what I was doing
…he needed to finish it!
I gave him a chunk of Play Doh in the color he requested
and he forced layered it on top,
smushing all the colors together.
I thought this could be fun Art to keep around
(I had a lid for the container we used, it wouldn't have dried out).
But where is the fun in that?
Let the excavating begin!
With his food tools at hand : Henry dug his way to the bottom.
Sometimes digging didn't work.
Maybe it could pour out?
Henry hauled his findings to me.
(Using a dump truck, of course)
This is where I sat…
nit-picking at the colors, trying to divide them back up…
Some colors got a new hue.
The orange is now slightly grayed.
The green has an eerily dark hue to it.
Others…

… had no hope of being divided.
(though very pretty!)
The ball became Henry's to do as he pleased.
At least its fitting for it to be a field.
(did I mention that Play Doh held Henry's attention for the entire day today?
We did the above activity for about 3 hours in the morning – after nap, it continued until supper!)
Check out this post for how to make homemade playdough – it is super soft and will last a long time!