Activities
Fine Motor
Learning
Math & 123sToddlersBusy Play
Colors
Indoor Activities
Sorting3 Comments
Work on counting skills with a super simple activity that's perfect for toddlers! Make Lisa's DIY abacus for toddlers with items you already have at your house.
Counting is such a fundamental skill for kids to learn. Turning learning into a game is a great way to make counting so much more fun!
I decided to take our learning games in a classic direction with an abacus.
Simple No Prep Customizable DIY Abacus For Toddlers
An abacus is a great tool to practice fine motor skills in toddlers. They will need to slide the beads, or other bead-like items, along the strings as they count.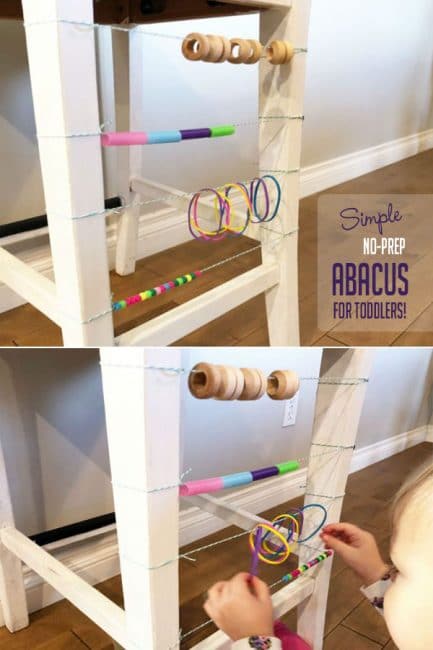 Add an extra sensory boost to your no-prep activity when you DIY your own abacus with loose parts from around your house.
The entire prep time it took me to set this up was less than 15 minutes!
To make your own DIY abacus for toddlers, you'll need:
A chair
String
A variety of loose parts that can be threaded
You can use any chair you have on hand in your house – even a highchair! I used one of our kitchen stools.
First, I cut four different lines of strings. I tied one end to one side of the chair, while leaving the other loose so I could thread my loose parts on.
The loose parts should be able to be threaded onto a string. Think: beads, metal nets, buttons, straws, O-shaped cereal, pipe cleaners bent into a circle, or other similar odds and ends.
After a quick search through my craft storage closet, I was able to find four different items I had on hand to string across each line.
What else can you make with loose parts?
I picked four objects that were really different to make the sensory experience even better!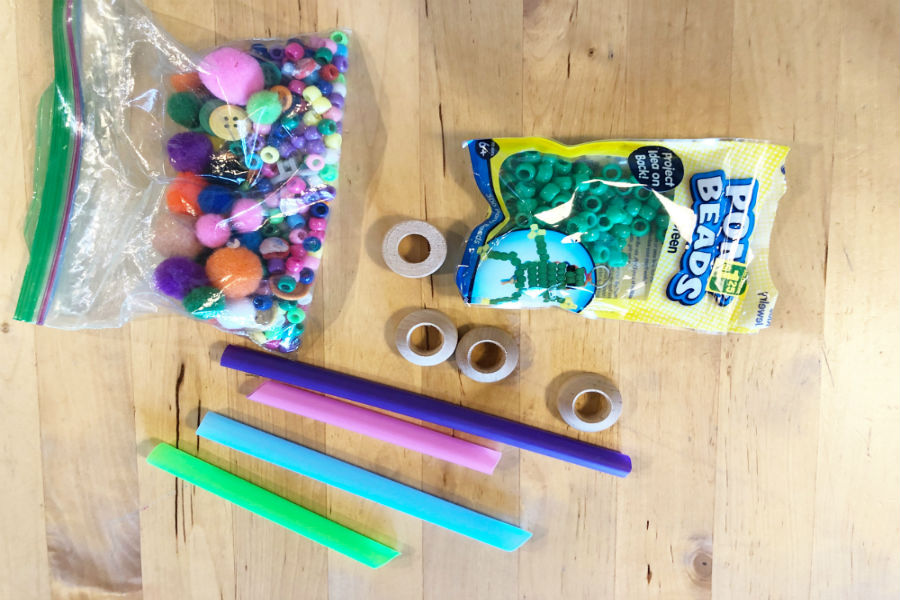 For our abacus, we used: beads, wooden rings, colorful elastic bands, and colorful straws. I ended up cutting the straws into smaller pieces.
Then, I threaded them onto each string and tied the loose end to the opposite side of the stool. I kept just one kind of object on each line of string.
Work on Counting with a Fine Motor and Sensory Twist
My one year old immediately noticed and sat down to explore. At first, she slowly and carefully moved each item across the string, taking the time to observe each movement.
She quickly noticed that the wooden rings and the beads made noise if you moved them back and forth quickly against each other.
She also tried separating and grasping each individual bead. This is great for fine motor skills like pinching and visual/spatial skills like spacing.
Discover even more fun fine motor activities!
After working with the beads, she moved on to the elastic bands. I thought that these might be a challenge for her because they are more flexible than the other objects on the DIY abacus.
As she moved them along the string, she was pulling and stretching the elastics, too. She loved seeing just how far they would stretch!
She sat and played with this abacus for twenty minutes. The best part was that she was in control of her own play which is one of my favorite things about loose parts!
Overall, this was a fun fine motor experience for my toddler. I also love that we can leave it up for her to come back to at any time as well!
Best of all, I can easily switch up the items on my DIY abacus for toddlers. Just untie one end of the string, remove your current object, thread on your next set, and retie the string. Super simple!
Do you incorporate loose parts into your play? Share your best ideas with our community!