Campaign
ParentingAll AgesTechnology4 Comments
This is a sponsored post written by me on behalf of OurPact.
I realized this summer that I have been way too slack in my parenting.
I've always taken pride in my hands-off approach to rules. I still do.
I'm all about doing hands on activities and teaching kids responsibilities, but never have enforced a set of family rules.
However, there was a time this summer that I realized that my kids were glued to the television. And their behavior got worse and worse when they weren't glued in front of it. So I tended to just let it happen more and more.
I finally snapped out of my 'funk' and made them a deal. If they could only watch one show per day for the entire week, then they could have a friend over the following week.
Henry was on top of it! He made a chart to track his shows.
It worked like a charm and their behavior off-screen improved tremendously. And now a good month later, I realize that this needs to take effect in all of their screen time, not just television.
I'm a huge advocate for kids using technology. Just as long as its not taking over and affecting their behavior (for the worse).
I know there's handy tablets and apps, like our sponsor OurPact, that can limit the screen time for kids. But I've never fully taken advantage of this because I didn't know my own rules yet!
I've always kind of limited their screen time, but never had set rules in place. It was much like my other parenting, go with the flow and taking care of problems as they arise. But never having a set rule in place for either the kids, or I, to follow.
And I realized that the reason I never made any rules is because I didn't know how to. I didn't know where to start. I didn't know what I even wanted (or didn't want) to allow.
I made this guide to figure it out, so that I can utilize OurPact, an iPhone parent control app that was created to help parents guide the mobile habits of the kids (and teach them responsibility using technology).
I created questions to ask yourself as a parent what you want (or don't want) for screen time for the kids. This guide is meant to write down the rules that you want. And post it somewhere to reference when you need to.
Download and print out your guide to screen time.
The key to any screen time is setting your limits, and until now, I've done a poor job at that.
What kind of limits do you set for screen time?
This is what I currently have set (and believe me, this will be revised over and over again as the kids grow and our needs change). Currently, I made rules as a family as a whole. But I can see down the road where it may be beneficial to have screen time rules for each child separately.
My kids can have screen time after they're ready for school in the mornings, after school, and again after dinner.
My kids cannot have screen time during meal times, or before talking about their day at school (aka, going through their backpack) or before homework is done.
My kids can have up to 30 minutes of screen at a time, up to one hour per day.
What can the kids use during screen time?
My kids can use any of our technology devices during the approved times, including the television, tablet with OurPact app installed, desktop computer or laptop.
OurPact is an iOS application (Android coming in October) that can do all of this! Parents can schedule internet and app use according to the routines you have. You can cap the number of hours that each kid can spend on the screen, as well as block (or allow) certain websites and apps.
They can use any of the apps that we have installed on the tablet, including:
The Apps My Kids Use During Screen Time
These are our latest apps the kids are continually using these days. These are in addition to the list of our favorite learning apps for preschoolers.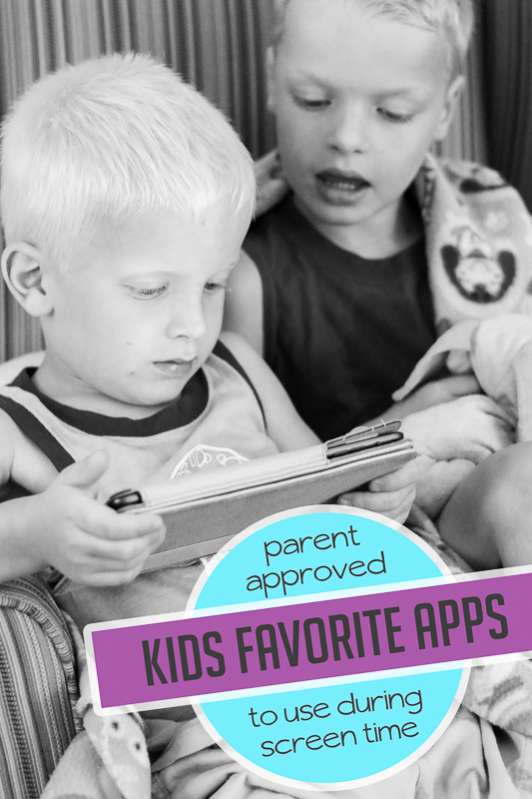 (The apps listed are all free, unless otherwise noted, and all for the iPad.)
Toca Robot Lab ($2.99)
Rush Hr Free
They can watch Netflix Kids. They can use IXL, PBS Kids, and Type Rocket Jr. on the computers.
My kids cannot use YouTube. (Although I have heard that there's a YouTube for Kids available, I just have not checked into it at this point). I have nothing against supervised use of YouTube, there's lots of fun farming videos my kids love. But whenever I've left them alone with YouTube, they keep clicking on related videos until they get so off-topic that I no longer approve.
Can screen time be earned or lost?
My kids can earn extra screen time by helping out around the house, receiving praises from their teachers, being 'caught' helping their friends or brothers.
My kids can lose their screen time as well by talking back, repeatedly not listening, or fighting.
When screen time is abused, screen time will be taken away either for the rest of the day or the following day, whatever Mom or Dad sees as fitting.
OurPact also provides these rewards and punishments at a touch!
Any exceptions for screen time rules?
It is okay to break our screen time rules when we are on car rides or for school projects (when homework calls for it).
Give kids something to look forward to when screen time is over.
When they're done with screen time, we are going to make it a point to do something together. So that there's enjoyment in shutting off the screen. Based on the times that screen time is allowed for us, we are looking forward to these things when the screens are shut off:
Story time
Help make dinner together
Take a walk or bike ride
Head to the playground
Do an activity of their choice
OurPact provides guidance to recommended screen time
If you're still lost in creating screen time rules for your kids, and you're not even sure what you want to allow, OurPact has guides based on child research. The apps recommends blocking schedules for each individual child's specific age. That takes a whole lot of pressure off of me trying to figure out what I'm supposed to do.
Have you set up screen time rules? What are they?
Don't forget to download the guide to set up your screen time rules and download the OurPact app on your devices to help enforce them!
This is a sponsored post written by me on behalf of OurPact.