LearningToddlersFamily
Size
Tracing8 Comments
We did a couple activities with Big and Small this week.
The first one was some family foot tracing and comparing.
Try using blocks in a new way and sort them by size, color, and shape here.
For This Big and Small Tracing Activity You will Need:
Markers
Feet to trace
Objects from around the house in big and small sizes (example: a real size cup and a toy cup, a real shoe and a doll shoe, a big toy car and a matchbox car, etc.)
Setting Up Your Big and Small Activity
First thing we did was roll out a piece of butcher paper big enough for us to trace multiple sets of feet.
You can tape them down if you don't want them to move.
Get out markers in a few colors so each person can be traced in their own color.
Get Tracing
Now, Henry and I 'got our toes out' (as Henry says) – and traced our feet.
Henry tried his best tracing mine.
We even got George's feet out next to add to our big and small activity fun.
And someone else's too… can you guess?
Blue Dog's!
We traced all our feet on some paper for this big and small activity.
We have a nice big roll of butcher paper for this kind of stuff!
Then we talked about whose was biggest, smallest, a little bigger and so on.
He had fun fitting his feet in the other footprints and seeing whose were bigger or smaller.
He noticed with this activity that his feet were bigger than George's and smaller than mine.
Good noticing.
Just that simple!
Trace More Big and Small Objects
If you enjoyed tracing your families feet, why not trace some more objects to for your big and small activity!
Take time to trace more items and discuss how they are bigger and smaller.
Find two cups. Maybe even a toy one.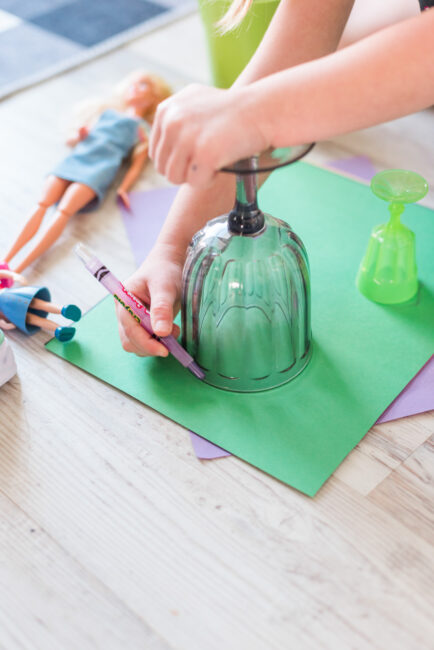 Find shoes in different sizes around the house.
You can trace anything that you can find in more than one size!
Cars, blocks, hands or anything else that has your toddlers interest.
Go on a hunt for big and small versions of things around your home with the kids.
Extend You Big and Small Activity
Grab small items like pom poms or stones and count how many it takes to fill each foot. Discuss how it takes more to fill the bigger ones and less to fill the smallest one.
If you want to make your big and small activity into a little keepsake take more markers out and let everyone color and decorate their own feet!
We all know how quickly those little toes grow and it would be fun to come back to down the road and measure your feet against them again.
You could even turn them into Zen Tangles like this activity for kids.