ParentingPreschoolersBack to School
Contributor29 Comments
Get your child set for school with easy ways to prepare your child for preschool from Katie of Mommy with Selective Memory and Susan of Kindergarten & Preschool for Parents & Teachers.
With school starting just around the corner, our two experts are sharing some super simple ways to prep your child for preschool! Perfect timing for Henry!
Skip the Stress on the First Day of Preschool
My daughter is a social little girl. She is always on the prowl for new friends, so I thought she would do fine when she started a Mother's Day Out program at age two.
I couldn't have been more wrong.
She clung to me like a little monkey, begging me not to leave. She wouldn't even look at the teachers and had no interest in the other children.
I was floored.
None of the other kids were reacting this way. They were happily playing dolls or trucks.
I didn't know what to do and I handled it exactly the wrong way.
To help her feel comfortable, I got down on the floor with her and tried to play and get her interested in things.
I broke the Cardinal Rule of Preschool Drop-off. I lingered.
But I only lingered because I didn't know any better.
Easy Ways to Prepare Your Child for Preschool
Preschool and Mother's Day Out programs are often our children's first experience away from mom. It can be scary for children and for parents.
On the other hand, some children are ready and don't even give mom a second glance.
Either way, here are eight ways to prepare your child for preschool:
Meet the teacher
If possible, take your child to a Meet the Teacher program or Open House and let her play on the playground before school starts.
Playdates
Try to enroll her in a class where she already knows some of the other children. If that's not possible, ask if you can have the class list before your child starts school.
You could offer to make your email available to the other parents so that you can arrange a playdate before school begins. Perhaps several play dates can be arranged or you will meet someone who would like to exchange play time.
Don't be shy. The children will benefit from seeing a friendly face the first day of class.
Practice separation
Leave your child with others for short lengths of time so that they know you will return.
Backpack and lunchbox
Before school starts, help her be excited about starting school by empowering her to pick out a backpack. If she is staying all day, she'll need a lunchbox.
Keep in mind everything you have to fit in these items.
In her backpack, she may need pull-ups, a special blankie or stuffed animal, pacifier, crib sheet and a small pillow.
You may need to put an ice pack in her lunchbox. Fill it with food you know she already likes.
Independent skills
If your child is staying all day, ask her to help you prepare her lunch.
She can stand next to you on a stool while you give her choices such as grapes or raisins, Grape or Strawberry Jello, and orange or apple juice.
That way, she'll feel like she has some control and will also begin to understand what is really happening that day.
Focus on your child
Make the whole experience as fun as possible.
Give your child your full attention on the way to school. Phone calls can wait.
Tell her stories about when you were a little girl and how much you liked school.
Sing songs. Try a spin-off version of "If you're happy and you know it, clap your hands." Make it, "If you're excited to go to school, clap your hands!"
Be excited, smile a lot, and be happy for her.
Communicate
Tell her it is okay to be afraid, but that there are always adults to help her and she can ask for help anytime.
Promise her that you will pick her up in a few hours or after a certain activity at school – like when the teacher sings a certain song or reads the last book of the day.
Don't linger
When it's time for drop-off, keep your goodbyes short, sweet and simple.
Give her a quick hug, tell her how much you love her, and leave her in the hands of the capable teacher. Even if she's crying hysterically, she will likely only cry for a few minutes once you're out of sight.
But if you linger, the crying will probably last longer.
Get ready for preschool with easy name writing activities!
Overcoming separation anxiety and adjusting to school may be gradual.
Give her your full attention at home whenever possible. Ask and answer questions.
Listen and bond with books and play. Tell her that you are proud of her for going to school.
Reassure her with hugs and often tell her you love her.
Then you will hear the greatest words on earth, "I wuv u too, mommy."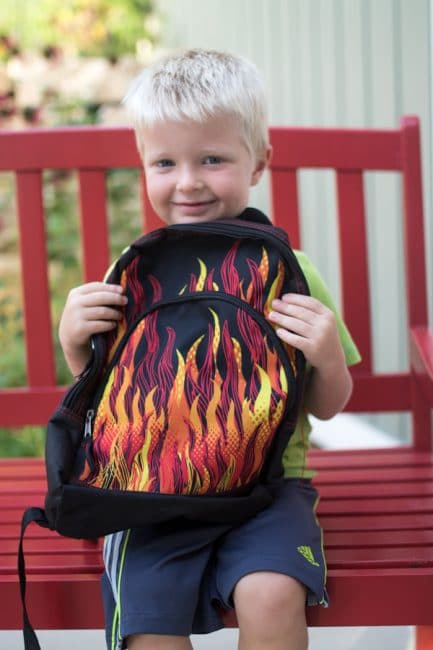 You can visit Katie Norris at Mommy with Selective Memory and Susan Case at Kindergarten & Preschool for Parents & Teachers.
They have co-written a book filled with many playful learning activities, saving your sanity, one project at a time: The Happy Mommy Handbook: The Ultimate How-to Guide on Keeping Your Toddlers and Preschoolers Busy, Out of Trouble and Motivated to Learn (affiliate link).