Literacy & ABCsABCs
Reading1 Comment
Settle in for a fun reading session with your preschooler or toddler! Check out these 13 amazing alphabet books hand-picked for us by Rosemary D'Urso, the Library Mom!
Identifying letters and the sounds they make are among the first steps to learning how to read. One of the best ways to teach the alphabet to children is through books.
The plethora of ABC books out there can be overwhelming, so I have narrowed down our favorite books that celebrate letters.
13 Alphabet Books to Read with Preschoolers & Toddlers
Enjoy these alphabet books with your children! Which ones are your favorites?
Affiliate links are included for your convenience and to help support Hands On As We Grow.
Alphabet Books for Babies & Toddlers
A B See by Elizabeth Doyle, 2015
(Ages 0 – 5)
This brilliant board book is an excellent way to introduce the alphabet as well as some advanced vocabulary to babies and toddlers.
Using short alliterative sentences, each letter is presented alongside an illustration displaying several objects that start with the featured letter.
The items vary in color and size and most importantly they are raised off the page so that little hands can feel them as they listen and explore.
A full list of all the objects is provided in the back, prompting children to return for several readings to discover every item.
Dr Seuss's ABC: An Amazing Alphabet Book by Dr. Seuss, 1963
(Ages 0 – 5)
This book has withstood the test of time for a reason. With its catchy rhymes and nonsensical artwork, this ABC book is irresistible.
"Big A little a What begins with A? Aunt Annie's alligator A a A."
This amusing board book is as fun to read aloud as it is to listen to. Its inclusion of capital and lower-case letters also gives children a nice exposure to both.
Alphablock by Christopher Franceschelli; illustrated by Peskimo, 2013
(Ages 0 – 5)
This unique board book has die-cut holes that create the shape of a showcased letter providing a sensory experience for children as they trace each line and curve.
The cut-outs also allow readers to peek into the next page encouraging them to guess what object or animal the letter stands for.
Bright colors and interactive illustrations make this book a winner!
Alphabet Books for Toddlers & Preschoolers
Oops Pounce Quick Run! An Alphabet Caper by Mike Twohy, 2016
(Ages 2 – 5)
Full of action and fun, children just love this energetic ABC book. Each page features a letter with a corresponding word that describes an epic chase between a dog and a mouse.
The words appear big and bold with the appropriate letter highlighted in a bright color.
The white background allows children's eyes to focus on the words and the comedic illustrations making this an entertaining and engaging read aloud.
Chicka Chicka Boom Boom by Bill Martin Jr. and John Archambault ; illustrated by Lois Ehlert, 1989
(Ages 2 – 5)
There is a reason this classic alphabet book is still read in preschools today. Its rhythmic text paired with Lois Ehlert's signature artwork makes for a charming book that begs to be read aloud.
The story focuses on lowercase letters that climb a coconut tree. When they all reach the top, however, they are too heavy and fall into a pile.
Parents represented by uppercase letters rush to help the little abc's.
Silly, fun, and perfect inspiration for extension activities, this book is a must-have.
LMNO PEAS (2010) and LMNO Pea-quel (2017)by Keith Baker
(Ages 2 – 6)
Keith Baker's series about an adorable group of anthropomorphic peas who playfully teach children about letters, numbers, colors, and months is a staple for many classrooms and families.
LMNO Peas presents uppercase letters while LMNO Pea-quel focuses on lowercase.
Great for reading alone or pairing together, parents will love the advanced vocabulary weaved into the text and children will love the whimsical illustrations starring the busy peas performing tons of eye-catching tasks.
There is also hidden ladybug on each page that adds to the fun.
Eating the Alphabet: Fruits and Vegetables from A to Z by Lois Ehlert, 1989  
(Ages 2 – 6)
Lois Ehlert's lovely watercolor collages take the stage in this standout alphabet book that not only celebrates letters, but fruits and vegetables from around the world.
The name of each food is printed in uppercase and lowercase letters allowing children to view both.
Children will love pointing out their favorite foods and learning about new ones.
Creature ABC by Andrew Zuckerman, 2009
(Ages 2 – 8)
Stunning photographs of animals paired with the alphabet create a captivating educational ABC book.
Each upper and lowercase letter is presented with a teasing picture of an animal. The next page reveals a full-bodied photograph of the creature with its name.
Children will be clamoring to learn more about these fascinating beasts. Luckily, there is a glossary at the end that has additional fun facts about each animal.
This striking book is perfect for sharing with a group of children or admiring the interesting details of each animal while snuggling one-on-one.
If Rocks Could Sing: A Discovered Alphabet by Leslie McGuirk, 2011
(Ages 2 – 8)
After a number of years searching the Florida coast, Leslie McGuirk discovered twenty-six rocks that resemble the alphabet.  
She cleverly combined them with rocks that look like other objects to create a truly fascinating and educational ABC book.
In her author's note, Leslie writes, "The natural world is rich with inspiration." This is so true and beautifully demonstrated in this enthralling book.
It is not only perfect for teaching letters, but an excellent way to encourage children to use their imaginations and collect their own pieces of nature that resemble objects, letters, or numbers.
SuperHero ABC by Bob McLeod, 2006
(Ages 3 – 8)
What better way to get kids excited about the alphabet than using superheroes to introduce them? With each letter, a new superhero is presented with alliterative descriptions of his or her powers.
The characters are diverse and the large appealing illustrations make this a popular read aloud.
The Little Red Cat Who Ran Away and Learned His ABC's (the Hard Way) by Patrick McDonnell, 2017
(Ages 4 – 8)
In this ingenious ABC book, readers are challenged to put their phonemic skills to the test as they follow along on a humorous adventure.
The story focuses on a little red cat who is chased by a myriad of animals through the alphabet.
Using only the showcased upper and lowercase letters as text, children have to use the sound of the highlighted letter to identify the animal or object on each page.
With its comical illustrations and zany storyline, this book is original, educational, and most of all a lot of fun.
Z is for Moose by Kelly Binkham ; illustrated by Paul O. Zelinsky, 2012
(Ages 4 – 8)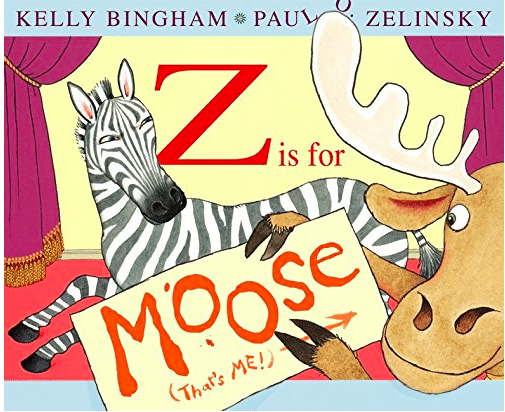 This clever new twist on an ABC book stars an impatient moose who can't wait his turn in a parade of alphabetical objects and animals.
The high-energy illustrations combined with a unique storyline make this ABC book an entertaining read-aloud that stands apart from the rest.
Since the alphabet becomes jumbled, however, it is best read to children who are already familiar with their letters.
What's your favorite alphabet books to read with your kids? Share your recommendations in the comments!
Rosemary D'Urso is a school librarian turned stay-at-home mom who constantly racks up late fines to read that perfect book with her kids just one more time. She spends her days going on adventures with her family, running, listening to audiobooks, and reviewing children's books. She hopes her reviews will help parents and teachers find the best books for the children in their lives.
Discover your child's next favorite book at her blog, Librarymom.com. Follow all of Rosemary's reading adventures on Instagram, @librarymombooks.