To get Henry excited to do this activity : we first did a portrait of…
Can you guess who? Click 
here
 for a hint.
Next, Henry's turn. He laid down, I traced him. All along the way, I asked him what color he would like each thing to be. Unfortunately, he wanted to be traced in Yellow, so it doesn't show up the best.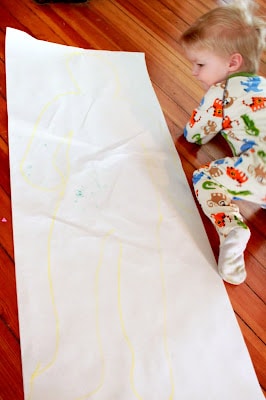 We got to work adding his features. 
Green Hair.
Green Eyes.
Red Lips (I didn't ask… oops!)
Green Shirt.
Red (!!) Pants.
Yellow Work Boots.
(do you know what Henry's favorite color is by any chance?)
I drew the outlines for these along the way and Henry colored them.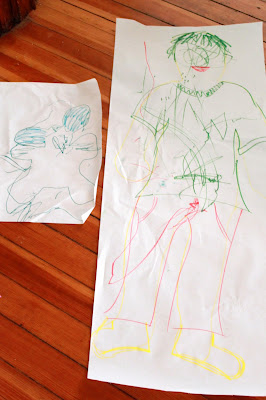 Henry's Self-Portrait along side his portrait of…
Did you guess who?
Blue Dog, of course.
(FYI : Henry doesn't stay in the lines, or on the paper for the matter. So the markers we use are washable. And when they say washable, they mean it. They're easier to clean up than dry erase markers are on a dry erase board! I high recommend these 
PipSqueaks
 (Affiliate link))