Every weekend I try to make a plan of activities for the coming week to start on Monday.
I start with the gauging what my child is interested in (using the "My Child This Week" sheet of the free weekly planner). I fill one out for each of my kids and what they're into at the moment. I use this as my guide to plan our activities accordingly.
With each of my kids' interests, I brainstorm 7 activities to do that week. I jot them down on the simple 'Activities To Do This Week' planner.
Below is a sample week of activities for two year olds.
For two year olds, I try to include the following in each week:
gross motor activity
fine motor activity
craft
art project
sensory activity
something just for fun
family activity for Sunday
5 weekly plans of activities for each one year olds, two year olds, and preschoolers (plus a learning one too!)
Monday: Tape two squares of tape on the floor, one inside the other to make a target. Use straws to blow pom poms into the target. Supplies: pom poms, painter's tape, straws
Tuesday: Wad newspapers into 'basketballs'. Aim and shoot them into a basket! Supplies: tub or bucket, newspapers
Wednesday: Make a paper bag mask by cutting two holes around the eyes. Decorate with paper and glue! Supplies: paper bag, colored paper, scraps, school glue

Thursday: Tape cardboard tubes (toilet paper, paper towels) to a wall or the fridge. Drop pom poms through to fall into a tub at the bottom. Supplies: cardboard tubes, pom poms, painter's tape
Friday: Use unusual objects to paint! Make textures with combs, roll on the paint with a rolling pin, and try tape resist! Supplies: paper, paint, rolling pin, comb, painter's tape
Saturday: Spread flour on a baking sheet to explore! Move the flour around or try writing and making lines. Supplies: flour, baking sheet or tray
Sunday: Run errands together and ask for help whenever you can.
Family Time Tip! Leave Saturday and Sunday open for things to do as a family (like a movie night or cuddles).
5 weekly plans of activities for each one year olds, two year olds, and preschoolers (plus a learning one too!)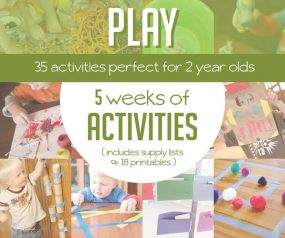 The PLAY eBook of 5 weekly plans of activities is perfect for the preschooler age. Fun ways to get two year olds moving, work on fine motor, do arts and craft projects and have fun as a family! Each weekly plan includes a handy supply list and activities broken down to know exactly what to do in a simple sentence or two.