Valentine's DayPreschoolersKindergartnersNewspaper
Window2 Comments
At the beginning of the year, we get all these new phone books. The phone books hardly get used to begin with, and then we have the all the old phone books as well.
So it was time to do something fun with them before just throwing them in the recycle bin. (Gotta love upcyling, right?)
Painting the pages seemed like a good idea! The boys loved this!
If you don't have any phone books lying around that you want to ditch, use last week's newspaper instead!
I made some simple water colors (water with food coloring) and handed them paint brushes.
The start of our watercolor hearts!
I gave them all sorts of Valentine's Day colors because we were going to make some watercolor hearts to hang on the window.
(Why is it that Valentine's Day has this way of filling up my windows?! I just love decorating them!)
Another window of ours is filled with simple cut heart garlands! Stunning!
Reds, purples, pinks, and blues, even some yellows and greens to give it some contrast.
The boys painted in the phone books several times.
Letting them dry in between for a day or two and then painting a whole bunch more pages.
It was therapeutic kind of.
George asked me to paint with him one morning and it was so enjoyable to just paint and entire page whatever colors we wanted.
Finally we decided it was time to cut out the hearts.
I ripped out the paper, folded them in half and drew half a heart on each one.
Henry drew a few himself too.
Henry cut them out, George started to and did a couple, but wasn't much in the mood and just cut the scraps into little confetti pieces (that I was still cleaning up a couple days later…).
Then with some simple tape, I hung them on the window for the light to shine through!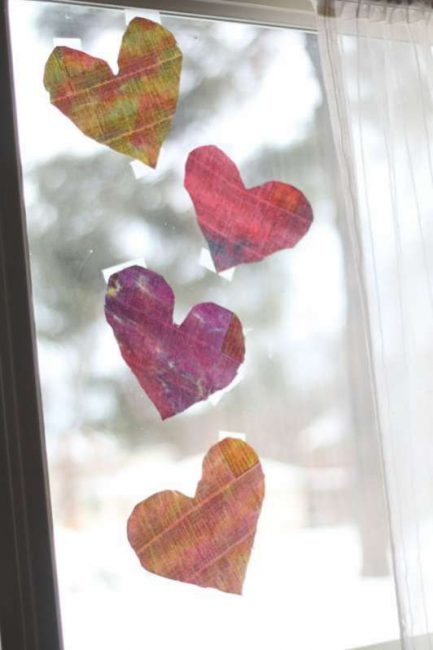 So pretty from both the inside and out!
More heart ideas for the window include: