Fine Motor
Learning
Literacy & ABCsToddlersAnimals
Indoor Activities
language1 Comment
Work on budding toddler language skills with a fun animal sounds activity from Julie! It's simple to make and easy to play!
My one-year-old is rapidly learning new words and language. So I'm all about finding ways to build on this interest and increase language skills.
We recently put together this simple animal sounds activity that's perfect for babies and toddlers. This new activity is quickly becoming one of our favorites!
Super Silly Animal Sounds Activity for Toddler Language Skills
This mystery bag activity piqued her curiosity and helped develop her budding language skills!
Discover six ways to increase your toddler's vocabulary through play.
To make your own fun animal sounds activity, you'll need:
medium-sized bag or box
assorted toy animals
To set up this language building activity, collect assorted toy animals from your child's toy box. We borrowed some animals from big brother's collection for our activity!
Place the animals in your bag or box, then let your child pull out an animal or two at a time. It works better if you can't see into the bag or box.
Keep it relaxed and fun. Don't worry if your child wants to pull out a bunch at a time.
Just follow your child's lead!
Silly Animal Sounds Activity Builds Language Skills
We sang a silly song to incorporate music and capture my daughter's attention.
"Animal, animal, hey, hey, hey! Animal, animal, what do you say?"
Make up your own rhyme or song to encourage early vocabulary skills!
As we pulled out each animal, we said the name of the animal and practiced making its sound.
Work on even more fine motor skills with a scoop and transfer activity!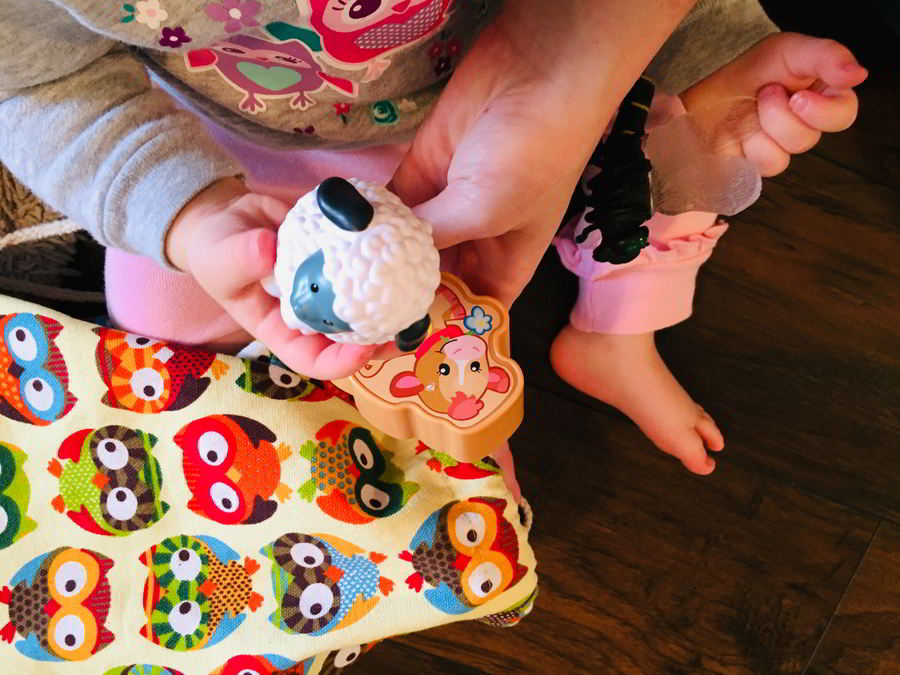 I love that this activity encourages early literacy and language skills, but also builds fine motor skills and concentration. And it's so simple!
Go on a hunt for letter sounds with your toddler or preschooler!
If your child needs more challenge, try these ideas!
act out the animals with motions
match the toy animals from the bag with animals in a book or cut out from magazines
match pictures or toys of the baby animal with the adult animal
This activity is the perfect way to jump into early phonics skills! After you've played with your animal sounds activity for a while, try adding in letter blocks or magnets.
As you pull each letter from the bag, say: "A says aah" or "B says buh." Just like with your fun animal sounds activity, your child will soon be telling you what sound each letter makes!
What are your favorite ways to build early language skills or teach animal sounds? Share your best language play ideas with us!