Literacy & ABCsToddlersABCs
Chalk
Chalkboard
Letters
Mazes
Writing Activities3 Comments
George is getting the hang of some, if not most of his letters. But, learning letters seems to come and go with him.
Instead of badgering him to learn more, more, more. I'm in a phase of building his confidence about what he already knows.
I set up a chalkboard maze for him to work on recognizing letters, but also to work on fine motor skills with a little bit of writing (which he's already awesome at).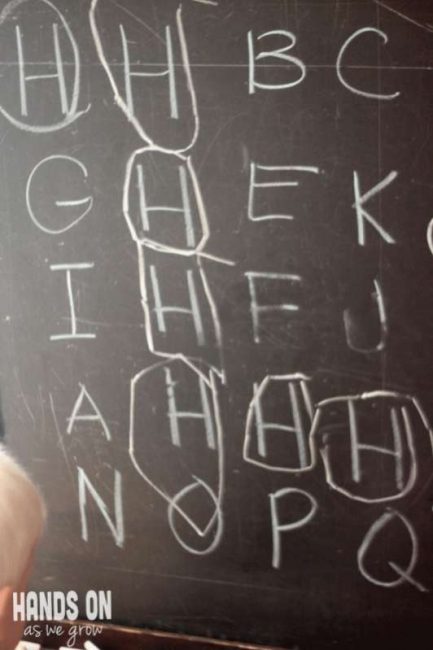 I first wrote the same letter over and over, following a grid pattern across the chalkboard to make it the maze to follow. Then I filled in the rest of the spots of the grid with completely random letters.
I circled the first letter 'H' and told George to circle the rest of the H's on the board and see if he cold make it to the end of the maze.
For more learning letters activities, especially for toddlers that are just beginning to learn, try one of the 20 activities for beginner letter learning.
George circled them one after the other. Questioning me at times if he was correct, that if it was indeed an H.
Of course George!
Is that simple enough, or what?
A little letter learning. A little writing practice.
Maybe next time we'll make a little maze on our sidewalk. I think that can be done pretty easily on a nice day!
Another twist would be to do the maze with the squirting letters lineup activity.