Autumn
Gross Motor
Spring
SummerGrade SchoolKindergartnersPreschoolersToddlersBubbles
Family
Outdoor
Upcycle4 Comments
Your kids will love making bubbles with these DIY giant bubble wands! Use supplies from around the house and have lots of gross motor fun.
My kids just love bubbles. Most kids do from my experience.
Every time I'm strapped for time or ideas I just pull out some bubbles and away they go.
Every time we are playing with bubbles my son, Charleston, asks "Mommy, make real big one!"
I spend a lot of time trying to satisfy his desire to chase the large bubbles around the yard only to ask for another one once he pops it.
So today I decided to see if we could make DIY giant bubble wands at home with the stuff I had at hand.
How to Make Easy DIY Giant Bubble Wands
First you will need to gather supplies.
For this Giant Bubble Wand Activity You Will Need:
Wire hangers (plastic coated ones work even better)
Duct tape
Large sturdy sticks (Or wooden spoons)
Large tub
Bubble solution, or:

Light corn syrup (or glycerin)
Water
Making the Giant Bubble Wands
So first I took the three coat-hangers I planned to use and stretched them out into different shapes.
Make sure your shapes are small enough to fit into the tub or container you have chosen for the bubble solution.
Next I bent up the "handle" part just a bit so it would be easy to get the entire shape flat into the bottom of our container without the handle getting in the way.
Then I used duct tape to attach the sticks to the hook end to make a longer, stronger, and less sharp handle for my kids.
TIP: Tape an extra piece of duct tape over the joining area of the hanger to help close off the sphere. You don't want any openings or the bubble solution will have a hard time adhering.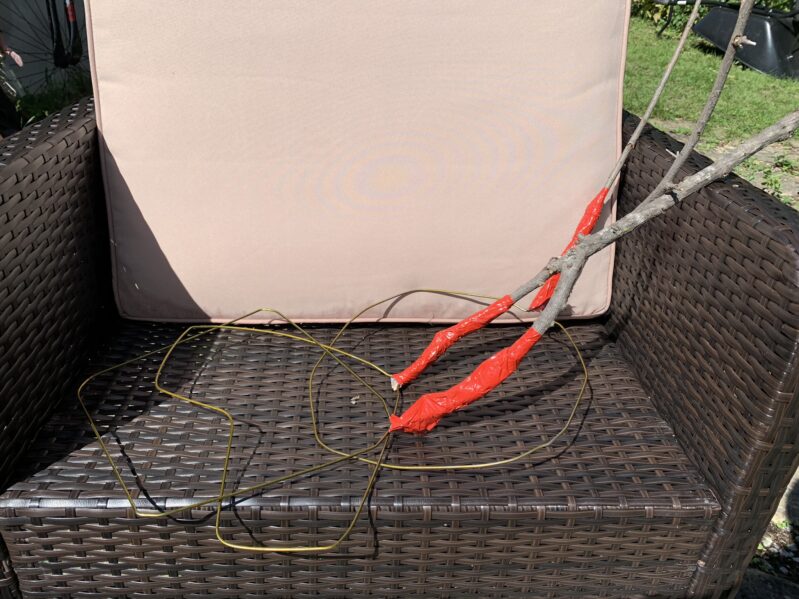 And there you have it… DIY Giant Bubble Wands!
Make Your Own Bubble Solution
This is totally optional but we decided not to deplete the bubble solution we had on hand and just made a big batch of homemade solution for this activity.
If you want to make your own this is how we did it.
Homemade Bubble Solution Recipe
6 cups of water (distilled is best but we used bottled)
1 cup dish soap (we used Dawn as it's environmentally safe)
1/4 cup of light corn syrup (or 1 tsp glyserin which we didn't have)
Stir these together somewhat slowly so you don't just create a giant bowl of foam!
We had a bit of an activity fail at first as this solution needs to sit for at least a few hours to make really great bubbles.
If you like playing with bubbles as much as we do, check out this super fun homemade bubble foam sensory play!
We were too eager and tried to use it right away only to have the bubbles pop very quickly. Or not fully form at all.
TIP: If you make this solution the night before it will be at its best! The longer it sits the better it performs.
Gross Motor Play with Giant Bubble Wands
Now it's the fun part!
Time for making bubbles and running around.
Excellent opportunity to get out some excess energy with outdoor gross motor play.
Everyone got involved.
Daddy and Mommy were doing some and of course Charlie was having a great time.
Baby sister mostly watched in amazement and dipped sticks into the solution.
Still great sensory play for her. But had to watch she didn't eat it.
Here are plenty of edible sensory play ideas that are super fun too.
Have Realistic Expectation
At the age of 3 it was harder Charlie to make the bubbles form and float away off the wand.
But he had a lot of fun just running and making the long bubble tube still attached to his wand.
I recommend for younger kids like my son to not get their expectations too high.
Encourage them to make giant bubble worms or snakes.
I avoided even putting the idea in his head that I expected him to be able to form bubbles with it. That way when he did by accident it was just an exciting event.
Due to our eagerness we had to put down the bubbles and find something to do for a while.
Making the Giant Bubbles for Younger Kids
After some waiting for the bubble solution to be better settled I was able to make very easy large bubbles for the kids to chase around the yard.
Some blew over our roof, some over the neighbors yard, and some even over the trees.
Charlie loved it most when he could catch them or run into them to make them pop!
TIP: If you have never made large bubbles, it is a learning curve. Try using a circular motion or little flick to get the bubbles to form off of your wands. Speed is not exactly your friend here. Practice is key, but once you get it be warned… it can be addictive!
This activity was so fun. We have gone back to it multiple times a day ever since.
And Then it is Time to Move On
If your kids are anything like mine there is never a question of when the activity is done. Haha.
For us it was when they decided to start bathing in the bubbles…
What are some of your favorite ways to use bubbles?
Share with us in the comment. I always love new ideas!