CraftsPreschoolersFree Play
Kitchen11 Comments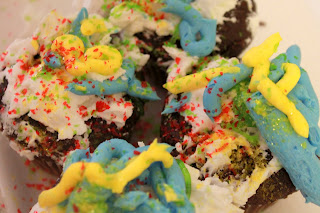 I had some work to get done at the Bakery this morning,
Henry tagged along.
(That's something new for me.
Henry tags along with Dad to work at the Bakery quite often.
But never with me.)
I wasn't sure how it'd go.
Then I thought maybe he could make his own cupcakes
while I'm decorating a cake.
It worked perfectly!
Henry really enjoyed himself.
And I got my work done.
Here's how that happened:
I handed Henry a dish of buttercream and a spatula.
Along with four chocolate cupcakes, of course.
(One for each of the family: Dad, Mom, Henry and George.
But what about Blue Dog? – Henry said he'd share his with him.)
I didn't give him any guidance.
He just somehow knew what to do.
First, he iced the cupcakes.
I was already using colored buttercream for my cake,
I just handed Henry the pastry bags for him to decorate his cupcakes.
(you could use freezer bags and just cut a tiny hole in the corner.)

And of course, he added colored edible glitter on top.
In all sorts of colors.
Green.
Blue.
Yellow.
Orange.
Red.
He even added a couple 'Happy Birthday' picks!
I absolutely love them.
Henry's creation.
Completely on his own.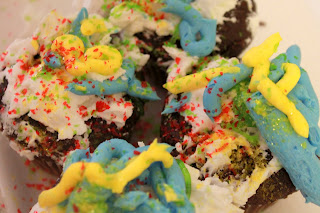 Henry definitely had to end his fun project by eating his creation!
I'm even coupling this project with a book!
(a first for me!)
After our cupcake fun, we headed home and it was time for Henry's nap.
Henry requested The Baker's Dozen (affiliate link) for his story.
The Baker's Dozen: a Counting Book, by Dan Andreasen
This book is a great counting book!
Counts up to 13 with bakery goods.
With a recap in the back of the number and goodies.
Henry tells me the number on every page.
He still has a troubles recognizing 10-13, but today he got them all but 13.
(he usually tells me its a 1 and 0, instead of 10.)