Literacy & ABCs
ScienceGrade SchoolKindergartnersPreschoolersExperiment
Toothpicks
Writing Activities1 Comment
If you're looking for a fun, fast, and super simple science experiment; you've found it! This writing messages on bananas experiment requires no-prep and will intrigue your little scientists (and maybe even you).
Check out these 50 Simple Science Experiments at Home for more science fun!
Banana Messages Experiment Materials: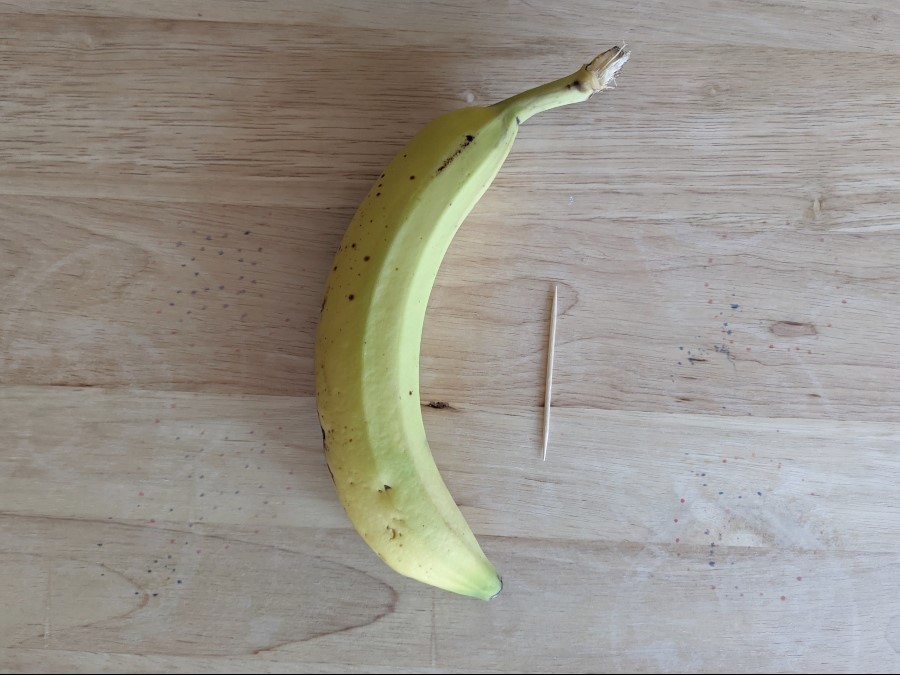 Writing on Bananas Experiment Setup:
Begin by gathering your two supplies for the banana messages experiments and your little scientists. Lay both supplies in front of them.
Have your kids then make an observation of what they see.
They may say they see a toothpick and a banana.
They may say that they see something yellow.
Maybe they will mention that the banana has brown spots on it.
There isn't a right or wrong answer, just as long as they are saying what they observe.
Then ask a question or two to get them thinking like a banana scientist.
How does the banana feel?
What does it look like?
Is there anything unusual on it?
What happens when a banana gets old?
The observations and questions will spark that scientific imagination, ready to be in awe.
Experiment Writing on Bananas Process:
Take the banana and the toothpick and talk about what might happen if you were to use the toothpick to write a message on the banana.
You might get some funny hypotheses or guesses, but there isn't a right or wrong answer.
Now it's time to test those predictions!
Think of a message, and scrape the toothpick along the banana to write your message.
You don't have to push too hard or make holes in the banana, just enough pressure to lightly see the message.
Show your kids the message and note their reactions.
Then, either your kids or you can read the message aloud.
Here is a fun Vowel Hunt Game to build those early reading skills.
Discuss what they see and notice about the message. Maybe even ask how they feel having a message written on a banana.
Now, here comes the waiting process…
You can choose to leave the banana and come back to it every five minutes or so, to check on the changes in the message.
OR
You can sit, wait, watch, and discuss the changes as they occur.
It took about 15 minutes to really start to see a change in the message (it got darker), but after an hour or so, it was pretty much as dark as it was going to get.
If you'd like the experiment to continue and you have extra bananas, have your kids write or draw their own banana messages.
Click here for some other easy ways to help your kids fall in love with writing!
Then enjoy a lovely banana snack together and maybe even listen to the song "Go Bananas."
Other Ways to Use Banana Messages:
Leave a banana secret message for your child to find in their lunch.
Use for name practice during snack time by writing your child's name on the banana.
Draw shapes, write numbers, create funny pictures to make learning sweet.
Give on Valentine's Day with an "I Love You" message.
However you decide to use this simple banana message science experiment, it's sure to make your kids go bananas.
What message did you decide to write on the banana?
Please share in the comments below.