Literacy & ABCs
Science
ThinkingPreschoolersTapeLeave a Comment
Our sticky spider web is one of the most popular activities on Hands On As We Grow.
It is super fun and gets the kids moving.
However, many readers have had problems doing the activity. Their tape isn't sticky enough to hold the newspaper thrown at it. Or the child can't throw the ball of newspaper to get it to stick.
I had a reader write me an email sharing her child's experience with the sticky spider web and how they found alternative ways to play with it since it didn't pan out for them.
I love that she turned of what could have been a doozy of an activity into a complete art installation and experimenting with hypotheses!
Here's Cathy's experience with our Sticky Spider Web activity
I really wanted to show the success and unexpected outcomes of the tape spider web that I did with my 3 year old. It isn't easy to hold his attention for a non-truck related activity so this was really fun and gratifying.
Adding objects instead of only throwing paper…
He tested what objects would stick depending on weight (matchbox cars! small train track pieces!) figuring out which side was sticky.
It evolved into a truly colorful art installation!
Popsicle sticks were the perfect size and weight.
They became tools for letter making and identification.
Then became a fence…
Mommy and Daddy had to crawl under on their belly to get to the living room that evening.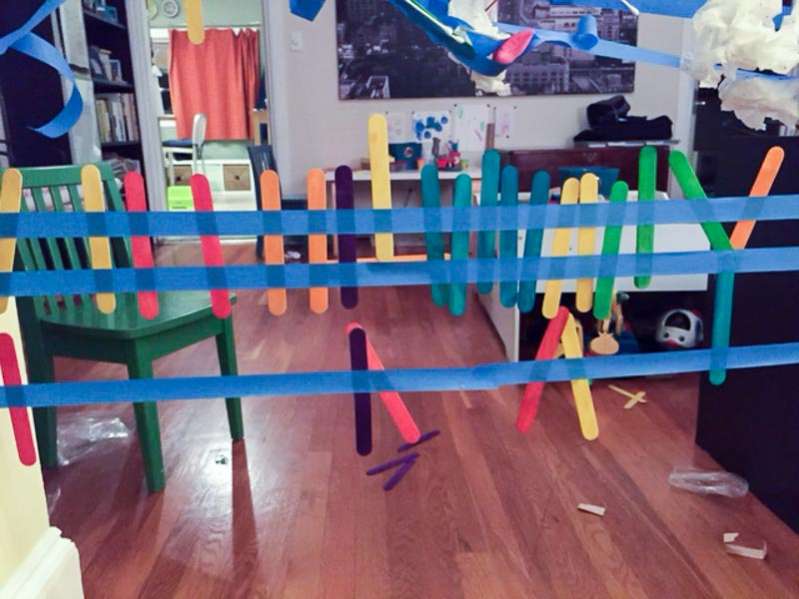 Have you ever had an activity morph into something completely different?
Please share!