CraftsIn the Past
Weekly WrapupLeave a Comment
[above clockwise from top-left]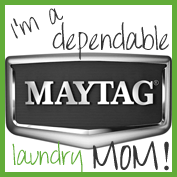 My big news of the week is that I'm one of the
#MaytagMoms!
And I am so beyond thrilled about it. I made a list of what I don't like about my current washer and dryer and what I'm hoping to see that the new Maytag washer and dryer will do for me!
This time last year, we were making our
DIY Tin Can Windchimes.
I never had thought it would be such a popular activity, but this is the hands on : as we grow readers' favorite! Who knew? They were pretty cool! And maybe we'll make another version this summer!
What we're reading this week:
While we try to do an activity every day, but we still have a lot of time for just play time. And the boys usually choose to farm. Tractors and more tractors… that's our life in a nutshell. [Hence the 35 Activities for 'Things that Go'!]