Art Projects
Crafts
Mother's Day
SpringToddlersKindergartnersFlowers31 Comments
I am totally loving these flower cards the kids made for a Mother's Day craft and gift for Grandma (and myself!).
In previous years, we've made bouquets of flowers for Grandma, and could have totally made these into a bouquet too. Instead though, we made homemade cards this time.
Here are 10 more cute flower crafts to make for Mother's Day!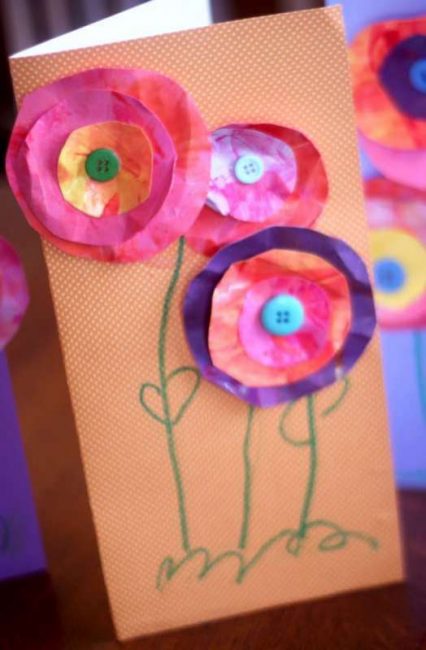 The boys ask to paint all the time, and usually, it doesn't turn into much by itself, especially when I leave it completely open.
MORE ACTIVITIES YOU MIGHT LIKE
This time I just had them paint on bright, pretty, colorful scrapbook paper in coordinating bright, pretty colors. Pinks and oranges mostly.
They painted them however they liked, smeared it around, made prints with cookie cutters, and ended up finger painting most of it.
With those painted papers, I cut out three sizes of circles. As many as I could fit on there.
Henry could have helped out with cutting because the circles don't have to be anywhere near perfect, but he was super excited about getting PVC pipes for his birthday, so he didn't want anything to do with the cutting… So I cut all the circles out myself.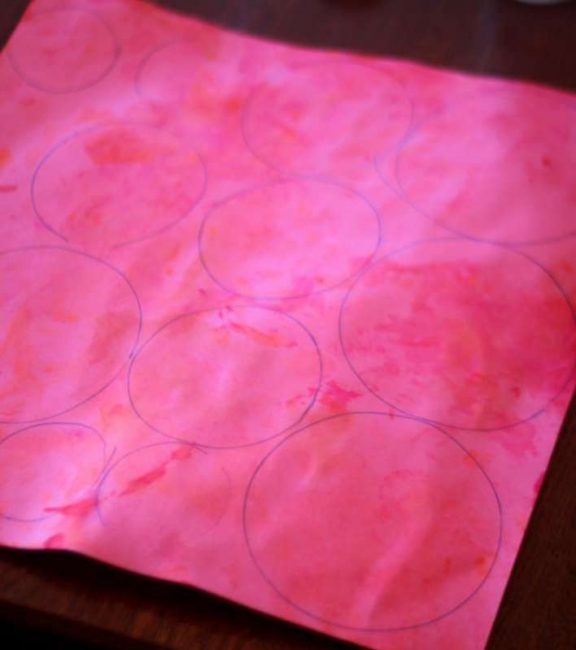 But then… the boys were interested again…
Now that we had three sizes of circles, the boys crumpled each circle up and then kind of flatten it out again.
We had a lot of circles to do!
The crumpling is to give the flowers a little bit of a 3D effect and to look a little like flower petals.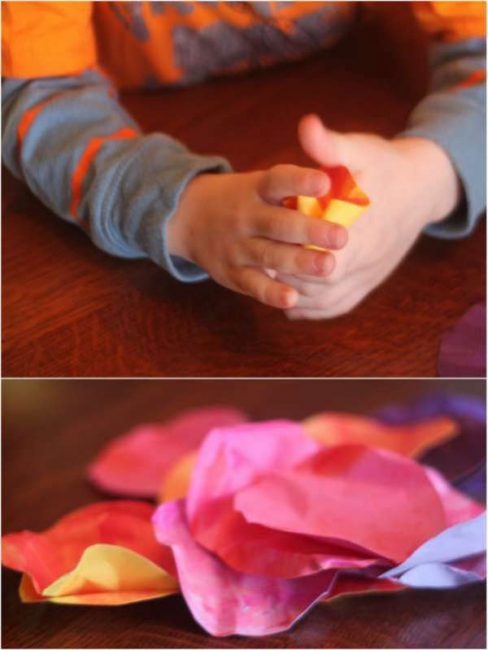 The boys stacked up the circles by size. One large, one medium and then a small. And glued them together. We used Washable Mod Podge, (affiliate link) because we had some leftover from the L we made for Louis' room.
This part was definitely tricky for George, he wasn't quite ready to do this on his own and needed quite a bit of help.
There's 10 more stunning flower crafts for the kids to make! They'd be perfect for homemade gifts or cards!
For the middle of the flower, we glued on a button. (That part George was super excited to do and he wanted to put that on right away for each flower!)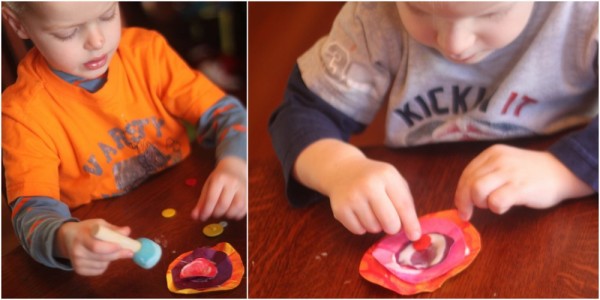 And repeat, repeat repeat until we made all the circles into very colorful flowers.
Henry and George both drew stems, leaves and grass onto folded scrapbook paper.
I first had them draw in green crayons, but they were barely showing up, so I had Henry retrace his (and I retraced George's) with green Oil Pastels (affiliate link). Now, those showed up bright! Perfect!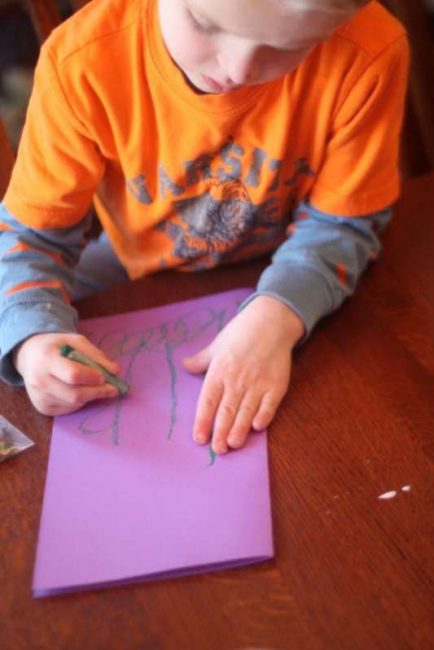 And then with a dab of glue to attach the flower to their stems to finish off the cards!
When Mother's Day comes up, I'll have Henry write a quick note to Grandma inside!
I seriously just love these flowers!
And the whole cards turned out pretty dang cute too, I think! I just love their colors!
A gorgeous Mother's Day craft for kids to make!
Bonus: Mother's Day Craft from the Kids!
We had so many flowers left over, that both George and Henry got to make a piece of art to hang up in the play room too!
More Mother's Day craft ideas: