CraftsAll AgesMy Favorites
Resources38 Comments
Ever since asking hands on : as we grow readers what supplies you have on hand most of the time, I got a lot of requests to share with you what kids craft supplies I recommend for those of you starting out doing activities with your kids.
I have a lot of odds and ends in my craft supplies, from brands sending me random stuff to try, to me getting supplies here and there to try it for an activity or craft.
But there's only a few craft supplies that I buy for the kids over and over again, that I make sure I have on hand in my craft cupboard.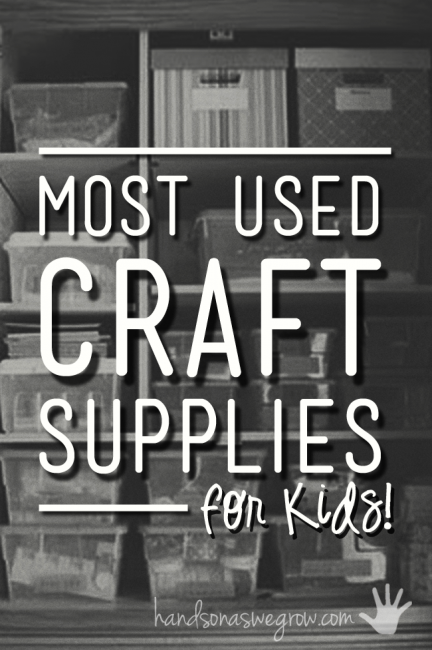 What kids craft supplies are the most used and I buy over and over again?
The supplies below are linked to a product on Amazon that I recommend using my affiliate link. By clicking on the link it helps support hands on : as we grow as you purchase from Amazon, however its no additional cost to you. Thank you very much for the support!
One time purchases, or rarely have to restock (these last a long time!):
I make sure to restock these craft supplies all the time:
Those are my most recommended supplies to have on hand and keep on hand to do probably 90% of the activities that we do.
I do tend to used a lot of items from around the house too though that don't belong in my craft cupboard.
Toys around the house come in handy a lot (the kids love it when we incorporate toys into activities). But also supplies from my kitchen cupboards and pantry are reused all the time. I sometimes do grocery shopping with activities in mind!
Quick tip! Don't go by this list of toys to do activities with your kids. Find the toys your kids are interested in and bring those into your activities! They'll be excited!
Toys in the toy box we use for activities:
Wooden blocks, we have both this set from Melissa and Doug that gets used a lot, as well as this set with smaller, colored blocks.
Store-bought or homemade play dough
All the boys' trains, cars and trucks get used all the time
A deck of playing cards is coming in handy a lot lately
A chalkboard. I inherited ours, so I don't have any recommendation for one. But it comes in handy a lot!
Stuff around the house I make sure to have some on hand for activities:
Q-Tips (cotton swabs): I use them as paintbrushes sometimes.
Cotton balls: These are a great alternative to pom poms.
Scotch tape: I always need more! My kids like to just play with it by itself, but you always need it to hang up their artwork!
Permanent markers (Sharpies): I tend to use these a lot myself as I get activities ready.
Rice, Oatmeal, Salt, Flour: All come in handy for sensory activities or making our own paint.
Baggies or Freezer Bags: Great for no mess painting or sensory activities.
Lots of measuring cups and spoons. These are always handy for sensory tubs.
Dish soap: Its just great to have on hand for clean up, but also can make foam or bubbles with it.
Of course, we did through our recycling bin to upcycle whatever we can!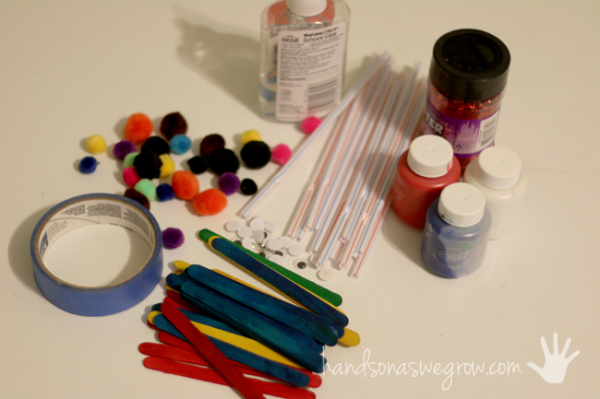 Then there are the craft supplies that are in my cupboard, but don't get used all the time for our activities:
They do get used in some activities, so if you're in a position to diversify and have the room to store these supplies, choose a few of these that suit what you're looking to do with your kids!
Pipe cleaners: we used them as a fine motor activity sometimes.
Craft sticks: we made cool Christmas tree ornaments from them!
Buttons: I can't seem to keep my button stash stocked as much as I like with cute buttons. When I do have cute buttons on hand we use them up fast. We tend to use them instead of glitter or sequins.
Pom poms: They're great for simple embellishments for crafts, but most of all they're a fun fine motor activity for toddlers.
Glitter: I try to avoid glitter whenever possible, but its great to have it around to embellish the occasional craft.
Golf tees: we use these to hammer into Styrofoam when we have it. However, this is the most common thing that hands on : as we grow readers do not have in their house! This is also something we wouldn't have either if I didn't buy them to do activities.
Shaving Cream: its great for sensory play and making marbled prints.
Googly eyes: they're great to have on hand for the Halloween season to make monsters!
Sequins: I actually dislike sequins almost as much as glitter. But again, they're great to embellish crafts at time.
Beads: I kind of loathe beads because they seem to roll everywhere whenever we get them out. But they're great for beading and making simple jewelry. We have some letter ones that have added learning opportunities.
Magnets: There are many magnetic activities I've found to do, but haven't had much success with them with the magnets that we have. So these mostly sit in our cupboard. They came in handy for our interactive snowman though!
Hot glue gun: This is more of a mom craft supply than a kids craft supply, but I've seen many crafts around where kids use them too (be sure to get a low temp one for the kids). We just haven't yet. Soon!
Clothespins: We've used them a number of times, its just not something I get out a lot. I love them for fine motor activities.
Rubber bands: I finally bought a rubberband ball and its coming in handy, but haven't had the chance to really use it yet. Our favorite way so far is a very simple activity to just wrap rubber bands around!
Straws: We've used them for painting activities, but also love to blow pom poms around with them!
Coffee filters: They've come in handy for numerous crafts, especially flowers. However, this is something I found most of you do not have (almost half of you) so we'll be using it less and less, especially since we wouldn't have them if I didn't buy them for crafts either.
Sponges: I just bought a pack of regular kitchen sponges that I have some of them cut up for painting projects. They get used over and over again.
Stickers: I don't ever seem to buy stickers for the kids, they get them for birthdays and holidays and whatnot. They come in handy for busy activities to do when they're waiting for something.
Tissue paper: I tend to save tissue paper from birthdays and put it in the craft cupboard. Its a great pair to contact paper for window crafts.
FYI: A shower curtain or old sheet comes in handy for messy play too.
That's about it. I hope I didn't miss anything, but if I did I'll come back to add to our list of favorite kids craft supplies.
What is on your list for supplies that you use the most when doing activities or crafts with the kids?