Literacy & ABCsAll AgesIn the Past
Technology11 Comments
Bookboard is an iPad app for reading children's books that keeps track of books read and unlocks new books to read. A library of books, right on your iPad, for the kids to read!
While I can literally see our public library from my front window, I have been having a hard time actually getting the kids there since Louis has been born. And Bookboard has really come in handy, and its literally a library of books right at my fingertips.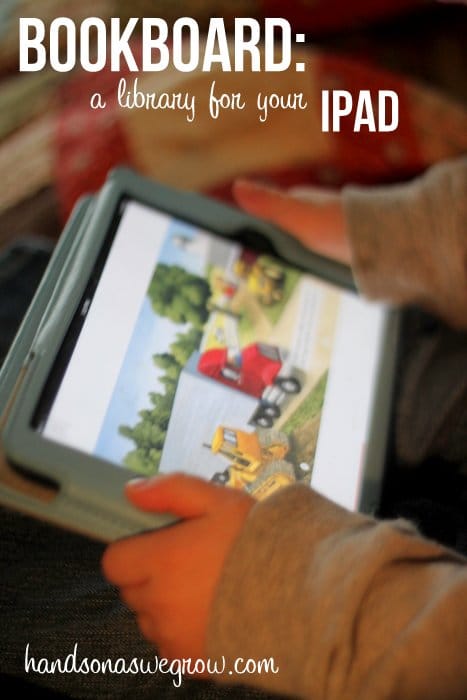 A Library of Books on the iPad:
I signed up for a Bookboard membership and set each of the kids up with a profile. Its pretty handy and keeps track of how many books each child reads and as they read they unlock more books to be read!
Since Louis has been born, I hate to say that reading has taken somewhat of a backseat. We only read a book before nap time and bedtime to the kids now, whereas before we'd be reading books several times a day. I'm kind of excited to bring books to the iPad so that we can revive our love for reading again!
George loves it and we've already favorited quite a few books in the 'machines' category like Truck Stuck, Subway Ride and Trucks, Planes, and Trains. And we're excited to see what books we will unlock next!
When Henry starts to read on his own, I think this will be a great tool to get him excited about reading. As you tap the text of the book, it enlarges, making it easy to read, but I think it would also help him focus on the words better.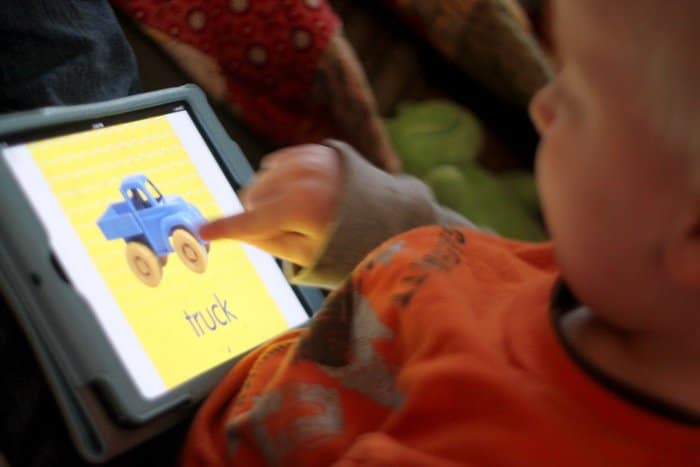 Technology has its place:
I think technology, such as the iPad, definitely has its place in my kids' lives. Its going to be in their future and they definitely need to know how to use it.
However, I do think it can be overdone and there needs to be boundaries set. Whether the iPad is a reward for good behavior and they've earned it, or if the boundaries are set times that they can use it, or if there's just time limits. There needs to be some kind of boundaries.
We're still working on those boundaries and trying to figure out what works best for my kids right now. I'm currently trying out a 'when everything else is put away' boundary for the iPad that seems to cut back on the iPad time, as well as get the toys picked up.
I try to make sure the iPad is used as an educational tool, instead of a distraction. We've used the iPad in conjunction with building blocks that the boys love to do. And I always make sure that the apps that are available for the kids to use are educational. And what's better than books!
With Bookboard, I can track what the boys have been reading (I get an email whenever they unlock a book!). It provides me with their 'stats', such as how many pages they've read and for how many minutes they've been reading books. All very awesome!
And now for a little fun for my readers!
An iPad Mini Giveaway for Bookboard Members:
A giveaway for new Bookboard iPad App members! All you have to do is sign up for a membership by February 11th and you'll be entered to win a iPad mini!
An iPad Mini (affiliate link) people!
How can you go wrong with this? Sign up for an incredible membership (for FREE!) to read books with your kids and plus have the chance to win an iPad mini!
Win-Win for sure!
What are you waiting for!
The giveaway is open to US residents that are at least 18 years old.
See Bookboard.com for more details and the full giveaway rules.

Disclosure: This post is sponsored by Bookboard. All opinions are 100% mine, as always!