Fine Motor
Literacy & ABCsPreschoolersABCs
Game
LettersLeave a Comment
Take a break from worksheets with this fun hands-on build a letter game from Julie.
I love combining learning with good old-fashioned competition whenever I can. This super low-prep letter game is so much fun! Check out more letter learning ideas like this fun paper plate letter activity!
Build a Letter Game Materials:
Popsicle sticks (one handful for each player)
Letter flash cards
Plain white paper
How to Play the Build a Letter Game:
My preschoolers love this game. Thankfully, it's so easy to set up and gives them the hands-on learning environment they crave as well!
As they play, they'll practice letter recognition, pre-writing skills, and fine-motor practice as well!
First, pass out a piece of white paper to each player as their "game board." Give each player a handful of popsicle sticks. You can put these in a jar if you think they'll end up all over the floor. We love our colorful sticks, which make this game bright and cheerful!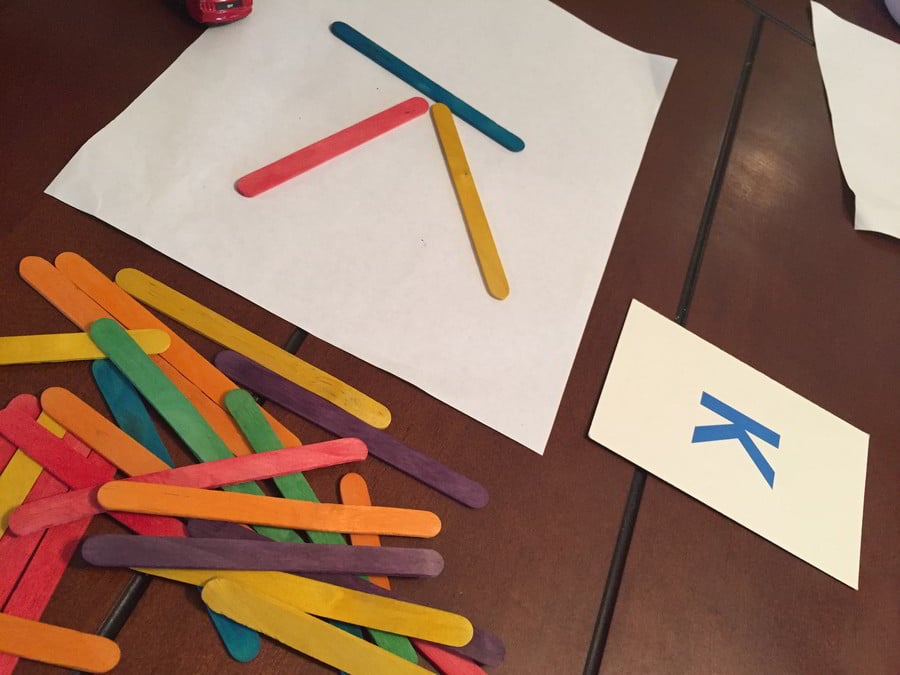 Find more preschool fun with letters here!
The build a letter game is so simple!
Say, "We're gonna build a letter, we're gonna build a letter, we're gonna build a letter and the letter is….K!"
Have the players keep their hands in their laps until you say the letter. Once they hear the letter, they race to see who can build it first with their sticks.
To win the round, the player must build the letter with sticks, trace the letter with their finger, and say the letter out loud. We like to engage as many senses as we can for better learning retention!
If you want a more competitive game, then allow the winner of each round to keep the letter card. Give a prize to the player with the most letters at the end of the game. Want to keep it more chill? No worries! I promise preschoolers will have fun with this even if they don't keep score.
Love this idea? You'll also love this a-MAZE-ing way to learn a letter!
The best part? Clean-up takes one minute! Just put your flashcards and popsicle sticks in a bag for easy access next time. If you want to focus on just one letter at a time, your preschooler will also enjoy this week of activities to learn a letter.