Fine Motor
WinterPreschoolersCoffee Filters
Cutting
Snow11 Comments
Henry's been on a cutting kick lately. Since its winter, I decided to take advantage of this and cut snowflakes!
I tried my best to make this as preschooler-friendly as possible. We used coffee filters for our snowflakes.
Coffee filters are easy to cut, plus they're already round!
And they were really easy for Henry to cut. He didn't struggle cutting through them at all.
He has a Crayola sharp pointed child scissors (affiliate link) that work perfectly for him. And they cut really good. (Seriously, we've tried many others that don't work worth a hoot.)
I folded the coffee filters into eighths (in half three times).
— You could add in another degree of learning by talking about fractions with your kid.
So Henry would know where and how to cut the snowflake, I drew marks in a simple pattern on the folded coffee filters.
More ways to make snowflakes! Check out these 30 ideas to make a snowflake!
We did several snowflakes, and I learned how to best draw the lines. (For example, don't draw marks to cut right across from each other, they very may well cut a little to far and cut through the coffee filter.)
We had a mishap with one snowflake being almost completely bare. I had almost crumpled up the coffee filter and threw it out.
But, Dad had stopped me, and told me to open it up to show Henry. (Ah…. see, there's a consequence for an action….)
We decided to keep the mishap snowflake and hang it up with the rest. Dad even made his own coffee filter snowflake! (Can you believe, he had never done this before? Seriously! Even as a child!)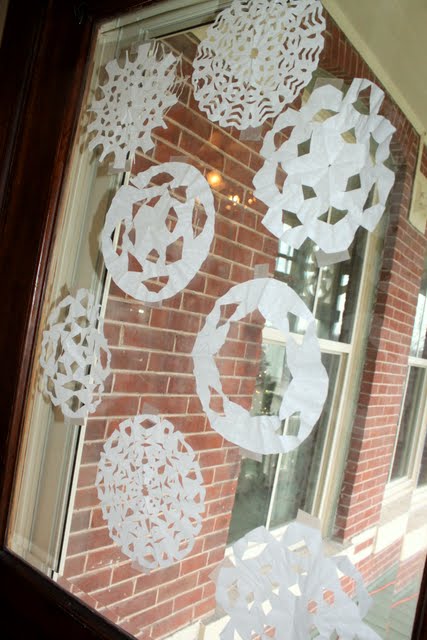 — Sorry, I don't have any pictures of Henry actually cutting because I had to hold the folded coffee filter as he cut out the snowflake.