UncategorizedIn the PastLeave a Comment
It's time to party!
We're chatting with moms about dependability and their laundry! Join us Wednesday afternoon (Oct 17) with Maytag and MomCentral and the Maytag Laundry Moms!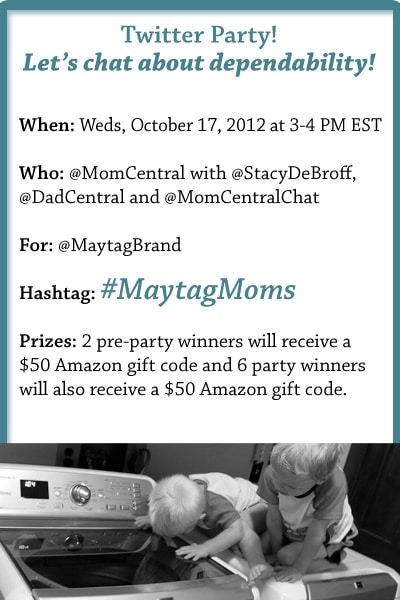 MORE ACTIVITIES YOU MIGHT LIKE
Here's the Scoop:
Date: Wednesday, October 17, 2012
Time: 3-4 PM EST
Moderator: @MomCentral
Assistant Moderators: @StacyDeBroff, @DadCentral, @MomCentralChat
Guest: @Maytagbrand
Hashtag: #MaytagMoms
Prizes: 2 pre-party winners will receive a $50 Amazon gift code and 6 party winners will also receive a $50 Amazon gift code.
Here's how to be a pre-party winner:
Just Pre-Tweet to Win!
Join @momcentral for the #MaytagMoms Twitter Party 10/17 3PM EST for chances to win Amazon gift codes! Details: bit.ly/TtsbAL

— Jamie (@handsonaswegrow) October 16, 2012

Join the #MaytagMoms party on Wednesday:
Join us on a TweetGrid that's all ready for you to join, by MomCentral*
[*We are so excited to launch our new TweetCentral layout! Be sure to follow along, it's a very similar layout to what you're accustomed to.]
Questions: Contact Jen at jcollins@momcentral.com
You can read more information about the party at MomCentral.