UncategorizedAll AgesIn the Past
Weekly Wrapup1 Comment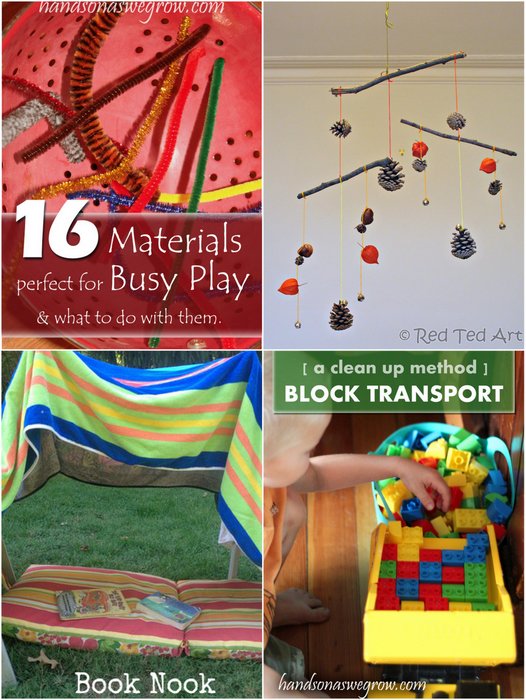 This week's hands on activities include… (clockwise from top-left)
Lots of busy play ideas that I have been trying out with George to practice before the baby comes. These will also come in handy when I'm trying to get dinner on the table! Phew!
On It's Playtime, I shared 10 fall activities and crafts! I am in love with this nature mobile from Red Ted Art!
One of the busy play ideas is this block play that I set up quickly to entice the boys to pick up their blocks. Making clean up fun really works!
The Pleasantest Thing has shared another fun activity (check out the learning activity she shared a little while ago with the Alphabet Ball!), this one is so simple and you can do it anytime, anywhere… with some towels! Perfect.
Must reads please!
This post cracks me up. My Life and Kids shares why you should have 4 kids. Why everyone should. Sounds like a solid argument to me. What are your thoughts? 4 kids for you too?
This. This, you will see definitely on the blog here sometime in the near future (in some shape or form at least). I absolutely have to make something like this with the boys. A marble run made with paper plates! I think Frugal Fun 4 Boys might just be brilliant with this. This is just incredible. Love it!
What should you absolutely make sure you do with your toddler before they get too big to do them? Creative With Kids has the Toddler Years Bucket List.
hands on : as we grow in the blogging world:
I was interviewed a couple times this week and I want to make sure to share those with you guys!
I got put in the hot seat and shared a little bit about my blogging history with Blogging With Kids, how it all got started, what its turned into, and how I make a little money from the blog.
On MommyPage, I shared a little more about my favorite types of activities and crafts that I do with the kids for the blog!
I've also been featured on some amazing blogs that you need to look at:
Okay, okay, enough of all that stuff. Time for some fun climbing in the trees!
The boys had their cousins visit over the weekend and they were constantly in the backyard at my parents' house, climbing the apple tree. It was amazing to watch them help each other get up and down out of the tree. Taking turns (as best as 3 and 4 year olds can), and just running around being goofy boys as always.
Were you a tree climber?