Christmas
Crafts
SponsoredGrade SchoolKindergartnersPreschoolersToddlersPainting1 Comment
Each year at Christmas time, our kids make a new Christmas ornament craft to add to the tree, so that decorating each year is like a walk down memory lane. Miracle–Gro® for Christmas Trees is sponsoring this adorable Christmas ornament craft!
My kids love to remember the fun they had making each Christmas ornament craft they find in the storage bin. Like last year's tissue paper wreath, or the previous year's pipe cleaner candy cane ornament.
Looking for your own easy homemade ornament ideas? Here are 25!
It's a holiday tradition for us and one our whole family looks forward to each year!
One topic that continues to come up year after year is the idea of having a kid-only Christmas tree in a special place in our house. This year we decided to go for it!
We found a real tree that's just the right size for the kids to decorate just right. And we'll keep it well hydrated with this special product that's perfect for this season, Miracle–Gro® for Christmas Trees.
We found a real tree that's just the right size for the kids to decorate just right, and to keep well hydrated with Miracle–Gro® for Christmas Trees.
Having a live Christmas Tree in the house that is just for the kids has been fun, but the only downside is all of those needles that drop on the floor!
Miracle–Gro® for Christmas Trees  helps keep our special tree hydrated to reduce needle drop throughout the holiday season (vs. water only).
Mini Gift Christmas Ornament Craft
We decided to create a fun mini Christmas gift ornament this year. It was a family affair with paint and crafting!
To make this Christmas ornament craft, you'll need just a couple of materials:
Start by laying the cardboard out on a table surface. If using recycled cereal boxes, position them so the outside of the box is laying down on the table.
Then, cut sponges into small pieces and dip them into paint. Holding and dabbing paint with sponge pieces is a great way to encourage kids to strengthen their fine motor skills.
Add more fine motor practice with this fun button ornament craft.
Show your kids how to dab the paint onto the cardboard. Younger kids can create random spots of paint, while you can encourage older kids to try patterns.
While the paint is drying, peel the backs from the gift bows and firmly press them onto the clothed pins.
These will clip onto the mini gift ornament and also attach the ornament onto the Christmas tree.
When the paint has dried, cut the cereal box into small square and rectangle "gifts" and clip a clothes pin each one.
Finally, clip the ornaments onto the branches of the Christmas Tree, stand back, and admire!
Dress up your tree with this yarn wrapped ornament.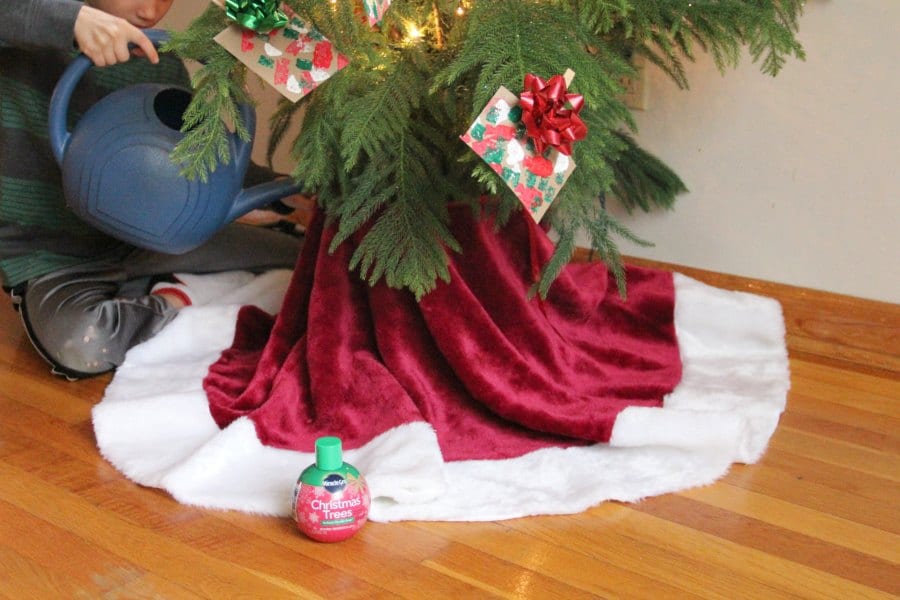 If your kids are anything like mine, watering the Christmas Tree is a big highlight. In fact, we had to come up with a schedule so that all the kids could have a turn keeping our tree hydrated.
I love that Miracle–Gro® for Christmas Trees helps to keep our tree looking fresh and the needle dropping a minimum, so we will be able to enjoy it the entire season!
Give Your Christmas Ornament Craft a Great Home
I shared a couple of proper watering tips with my kids so that they would know how to water their very own tree:
Add one capful of 

Miracle

–

Gro

® for Christmas Trees for every quart of water added.
Check the water level regularly and know that trees consume more water immediately after setting up.
Make sure the bottom 2″ of the tree always has enough water.
Use 

Miracle

–

Gro

® for Christmas Trees on live Christmas trees to help keep the tree hydrated while reducing needle drop (compared to using water only).
So far, the kids' Christmas tree is a looking great and well-cared for by four eager-to-use-the-watering-can kids!
We've got enough Miracle–Gro® for Christmas Trees to last us the whole holiday season and are excited to make this tree part of our Christmas memories!
A few more important points about Miracle–Gro® for Christmas Trees:
The product comes in a cool ornament shaped container.
You can find it at Lowe's, Home Depot, Amazon (affiliate link), True Value, Do-It-Best, and Ace.
Do you have a real Christmas tree? Do the falling needles make you nuts too?
This is a sponsored conversation written by me on behalf of Miracle-Gro. The opinions and text are all mine.