Gross MotorPreschoolersPom Poms
Tape51 Comments
You'll never guess how much gross motor fun your kids will have with just simple lines of colored tape!
I finally got some colored tape (affiliate link)! I didn't even have plans for it, but I felt the need to have it for some fun tape activities!
And boy, did we ever have fun. All with just simple lines of colored tape, too!
Tons of Fun, Just Simple Lines of Colored Tape!
Honestly, even I was amazed at just how into these activities my boys got. The best part? Setup was practically non-existent!
To create your own simple lines of colored tape activity, you'll need:
Colored tape in different colors
Pom poms
Straws
Space to play
First, I taped some fun lines on the floor in three different colors: a blue zig-zag line, a red curvy line, and one straight green line.
We ended up with two tape activities with this one setup of colored tape.
Walk the line of colored tape.
Blow pom poms along the coordinating color line.
I forgot to snag a ton of pictures of our original go-round with our lines of tape activity. But it was a hit!
So much so that we recently redid this activity again with my preschooler, George.
Below are the latest images of George doing the tape activities mixed in with Henry doing the activities a couple of years ago.
Henry was 3 at the time when we first did this. George is 4 when we did it again with the new photos below.
Walk the Lines of Colored Tape
Simple: just walk along the lines of tape. One foot in front of each other.
Following one of the colored lines. You could pick for your child – like follow the leader or "Simon Says" – or let them go around as they please.
The straight line is pretty easy. It's straight after all!
But the curved and zig-zag lines are harder. Kids will need to work on balance to stay on their color.
Make it harder by doing it backwards, or even sideways!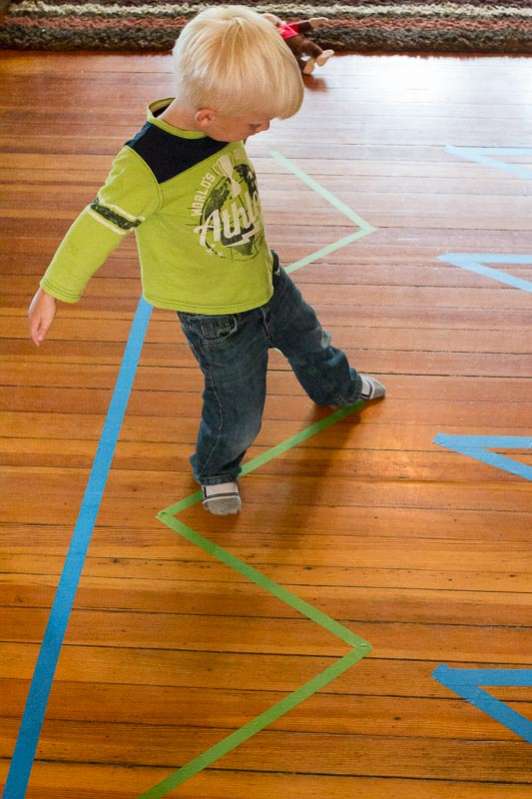 You could "challenge" toys to walk the lines of colored tape, too! Drive trucks or "walk" animal toys along the lines.
Add an extra challenge to your next walk the line activity – balance and transfer toys!
Kids love to have their special toys involved in their play and learning!
Blow Pom Poms Along the Lines of Colored Tape
This next challenge works on motor planning, color matching, and breath control. Plus, it's just plain fun while still being kind of hard for younger kids.
Ask your kids to blow pom poms along the lines, matching the pom pom color to the lines of tape.
Can your child hit the bullseye with pom pom target practice!
Blow the pom poms down the line with a straw. You could forgo the straw, but they make it really fun!
Set out a group of pom poms in various colors. Then ask your child to pick out the pom pom that matches their color line.
Or not – your call!
Then, set the challenge.
"Try your best keeping the pom pom on the line all the way to the end."
Older kids might respond to a penalty. Sometimes, having something, anything happen when they don't quite finish the challenge motivates them to keep going or try harder.
One "penalty" idea: start over at the beginning of the line each time your pom pom goes off. Or you could just have them start back at the last place their pom pom was on the line.
It's really harder than you think! Join them!
As you blow your pom poms along the line of colored tape, ask:
Does it work better if you are closer or farther away?
Do short, hard breath work better than longer, slower breaths?
Which line is hardest? Which is easiest?
Have pom pom races! I shared a pom pom racing activity over on PBS Parents using this same technique.
Ultimately: laugh. Joining in the fun will definitely make you laugh and make your kids' day!
What can you do with just a few lines of tape? We'd love to check out your ideas!