Fine MotorToddlersOutdoor10 Comments
A garden has been on my to do list for many summers.
Finally this summer, we got one planted.
Thanks to my mom.
The weather we've had this last week has been perfect!
It's been so great to be outdoors!
Henry didn't get into it as much as I had hoped he would with the garden, especially at first.
(When there's big machines also at the farm, planting a garden isn't the first priority.)
When Henry did start helping, he started by gathering rocks in a pail.
My mom and I did a lot of the planting ourselves, but Henry joined in as well.
He helped dig some holes for the tomato, cauliflower and pepper plants.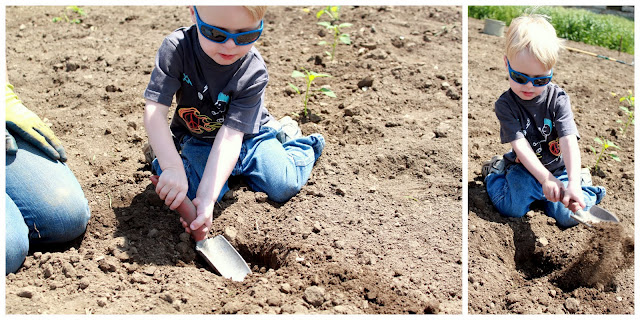 Grandma showed Henry how to pull the plant out of the container.
This is actually a great way to work on fine motor skills,
pinching and pulling in a specific spot of the stem.
More fine motor practice?
Planting the seeds in the garden puts the little fingers to work!
Henry helped a little with planting pumpkins, squash, cantaloupe and cucumbers.
(Mom and I planted all the peas ourselves.)
After each seed is in its little hole,
Henry carefully covered each up with dirt and patted it down.
Lastly, the plants need a drink of water.
Henry loves to help water flowers at home,
so hopefully he'll enjoy doing this throughout the summer!
(Hopefully he'll enjoy weeding it, too!)
Fill every week with activities using the planner.
Receive access to the free activity planner and keep the fun going! You'll also receive activities every week in your email. You can unsubscribe at any time.
Get the complete resource of activities. Activity plans that are actually doable and a super quick way to be more present with your kids. Make it super easy to have fun with your kids and be the parent you keep dreaming you will be. (Digital PDF eBooks)  More information.