Big ArtAll AgesIt's Playtime6 Comments
Creating Art while sitting just doesn't do it in this house.
To get Henry the most involved (and happy while doing it),
I come up with ways to make art that gets him moving as well.The best way to do this?
Make the art big!
The It's Playtime posts that catch my eye the most are the ones with Big Art!
More specifically, Big Art that uses body movement.
How do you use movement in Art?
Use your entire body to do it, like Pre-School Play shared in her Let's Get Messy post.
(You're bound to get messy when you take part in Big Art.)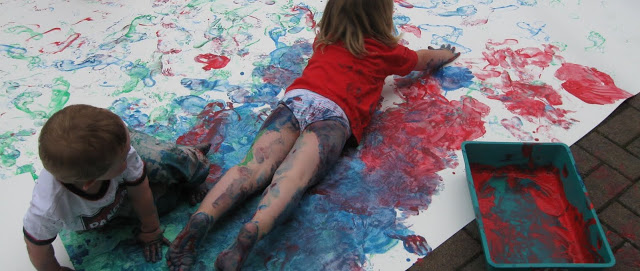 Or just make it on a larger scale, or use your feet to make the art.
Fill every week with activities using the planner.
Receive access to the free activity planner and keep the fun going! You'll also receive activities every week in your email. You can unsubscribe at any time.
Get the complete resource of activities. Activity plans that are actually doable and a super quick way to be more present with your kids. Make it super easy to have fun with your kids and be the parent you keep dreaming you will be. (Digital PDF eBooks)  More information.