Fine MotorAll AgesCraft Recipe
Play Dough5 Comments
How to make play dough when you don't have any flour on hand? I came up with a simple, on the spot play dough recipe for when you just don't quite have the right ingredients.
The boys wanted play dough recently, and I didn't have even a half a cup of flour on hand (funny, eh? Since we own a bakery…). And I really don't want to go shopping. I'm lazy in this cold weather!
I dug trough my pantry and came up with a quick (not cheap) alternative.
Pancake mix.
How to make play dough when you don't have flour?
Here's our alternative play dough recipe:
1 cup water
1 cup pancake mix
1 Tbsp oil
1 Tbsp cream of tartar
1/2 cup salt
Vanilla
Food coloring
The how to: Mix all dry ingredients together in sauce pan. Add oil and water. Cook over medium heat, stir constantly, until it reaches the consistency of mashed potatoes. Remove from heat and stir in vanilla and food coloring. Store in an air tight container.
The original recipe that I use also calls for alum, which I didn't have. I used cream of tartar instead. I think they're pretty interchangeable, and I even think they can be left out altogether if you have neither.
If you don't have flour or pancake mix, you could also use baking soda and cornstarch like Messy Kids.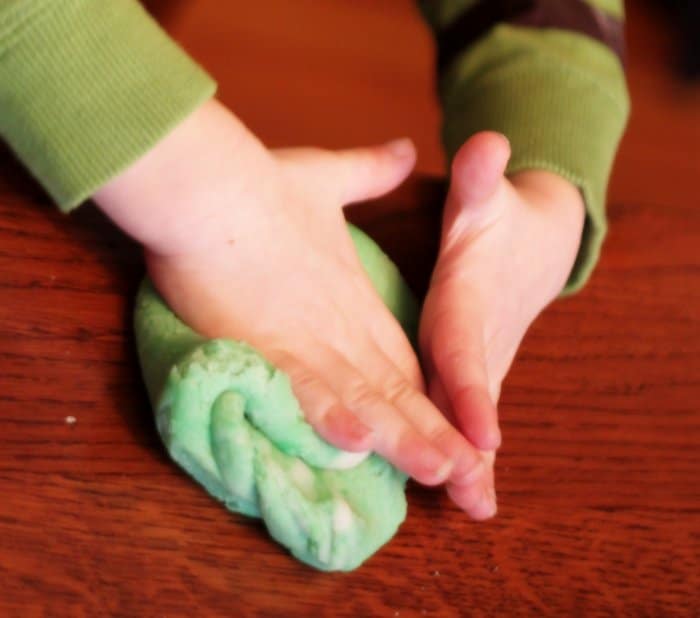 And the boys got their play dough.
I skip adding the food coloring myself and let the play dough cool a little bit before giving it to the boys. I divide up the play dough between them and let them choose their colors. They then get to mix it in. This always excites them and are so excited to see it turn to their color!
Phew!
A successful play dough recipe to keep in mind when you just don't quite have the right ingredients.
Now that you've got the play dough, have fun with it with one of the 34 ways to play with play dough!
Fill every week with activities using the planner.
Receive access to the free activity planner and keep the fun going! You'll also receive activities every week in your email. You can unsubscribe at any time.