To celebrate International Mud Day coming up, here's 30 fun activities for the kids to have an excuse to get dirty! From construction activities to art with dirt, exploring teaching opportunities as well as the obvious mud and dirt sensory activities.
Find a dirt patch, make some mud and start digging!
For even more dirty and muddy ways to play, there's a mud day linky at the end to provide you even more inspiration to let your kids get full of mud!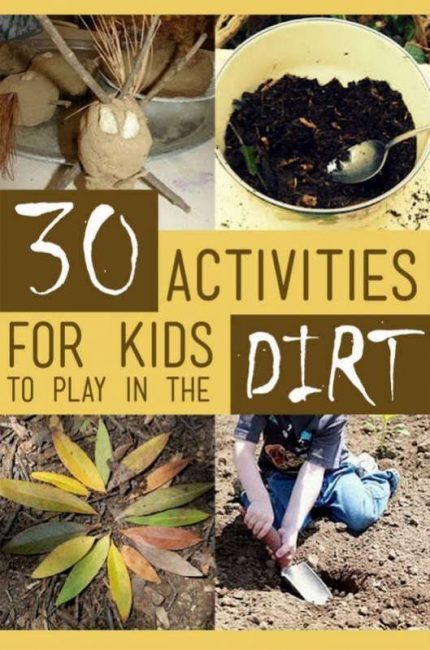 Fun activities to build in the dirt:
Art projects to do with dirt:
Mud Painting:


Camp Slop

Create Mud Sculptures:
Casa Maria's
Creative Learning Zone
Paint Dirt:
Time for Play
Create Art in Dirt:


Tinkerlab
Sensory play in the dirt:
Pretend play in the dirt:
Cook in a
Mud Pie Kitchen:


Simple Whimsy

Archaeological
Treasure Hunt:
Greening Sam & Avery
Create &
Plant Caterpillars:


Child Central Station

Pretend Paleontologist:


Habeebee Homeschooling

Plant a Fairy Ring:
Nurture
Create a Play Garden:
The Imagination Tree
Learning activities with dirt:
Dirt is Good:
Peaceful Parenting
D is for Dirt:
Naturally Educational
3 Dirt Science Projects:
Parenting Science
Make Compost:
Spell Outloud
Terrarium:
Paint Cut Paste
Start a Garden:
hands on : as we grow
Build a Bird's Nest:


hands on : as we grow

Make a Pond:


The Work Plan
Gotten muddy lately? Share your dirty experiences below!
————————-

————————-