Art Projects
CraftsToddlersResources31 Comments
Toddler crafts and art ideas can be fun to do when you have the right expectations. Try these 30 ideas for lots of toddler fun and craftiness!
But its hard for this age to get crafty.
I mentioned a while back that toddler activities are the hardest for me to come up with.
To make it even more specific, toddler crafts and art projects, activities that are creative activities, like art or crafts for toddlers, are that much harder!
Why is it so hard at this toddler age? They generally like everything right?
But toddlers do tend to not have full control of their body movements, nor do they understand how to be creative (in the way that you expect them to be).
And let's not count that they're completely messy with everything that they do, and this tends to make us shy away from toddler art projects in general.
With that said, I'm going to repeat (because I think it applies here as well) what I said in the 50 Activities Just for Your Toddler about what I consider a toddler, as well as how I have the best luck with my own toddler:
I consider a toddler to be roughly of the age of 1 to 3. When they start moving [walking] until they're able to learn and apply what they've learned to other situations.Tips I have for doing activities with toddlers are just a few:
Allow your toddler to explore whatever it is that you give them.
Don't do an activity with an intentional plan, it never works out with this age range.
Expect a toddler to be interested, leave it out for them to come back to later, or even the next day.
Plan for them to put it in their mouth if you have a mouther.
I also highly recommend the The Toddler's Busy Book (affiliate link), by Trish Kuffner. It always has something in there that sparks an activity for us.
Three quick tips for the more artsy, crafty types of activities that I've found to work well with toddlers:
In general, I've found that making art bigger usually works better with toddlers. They're going to get messy either way. This gives them the creative control.
Use unconventional materials to make art or do crafty things with. The exploration of the new material makes it exciting for them!
Try doing whatever you're doing with movement, instead of sitting in a constrained chair.
Onto the good stuff.
30 creative toddler crafts and art projects to try!
Toddler Art Projects
Activities for toddlers that focus on the process of creating the art, rather than the outcome. Try new materials and treat it as an exploration, or even a sensory activity.
Make very simple edible paint with yogurt.
Trace your toddler and have them draw themselves a self-portrait! 
Paint with a box, some objects and shake it up.
Use a material they love. Sand. Doodle with some glue and play!
Make prints! A toilet tube makes and awesome stamped heart.
Mix up colors (with no mess!) with this simple setup from Mama Smiles.
Paint with trucks and other vehicles.
Use stickers for art. Simple yet easily forgotten about! (from Rainy Day Mum)
Set up an entire table for scribbles! (from Creative Playhouse)
Colored rice art. (from Let Kids Create)
Put paint in a squeeze bottle! It makes it so much fun. And anyone can do it! (from My Buddies and I)
Just get dirty and have a blast with it. Make some mud and paint away! (from The Chocolate Muffin Tree)
Make art in the bathtub! Create an entire art station in the tub from Growing a Jeweled Rose
Make a mixed media collage. Using anything you have in the cupboards! Hand some glue over to your toddler and let them go nuts! (from Let the Children Play)
Or do the above mentioned mixed media collage with the previously mentioned contact paper on the window! Lovely recycled art idea from The Imagination Tree.
More art projects for kids: 10 art projects for preschoolers and 21 spring art projects for kids.
Crafts for Toddlers
Activities for toddlers that are geared more toward the craft than the process, although the process is still important, there is usually some outcome of the product.
Make collages on contact paper (with anything really)!
A great exercise for fine motor skills, make a shoestring necklace with cut up straws.
Simply decorate bowls (or other porcelain dishes) with sharpie markers. Just protect other surfaces from the markers!
Use markers (I highly recommend Crayola's Washable Markers (affiliate link), they come off everything) for a coffee filter garland.
Make a holiday tree. Just paint some branches and decorate!
You know those yarn balloons? Well, they're too hard for a toddler. Just glue some yarn randomly. Make yarn circles!
Dip coffee filters in colored water to decorate for flowers!
Make bird feeders with Cheerios! (from East Coast Mommy)
More crafts for kids: 36 simple spring crafts for kids and 28+ winter crafts for kids.
Other Toddler Creative Projects
Creativity can happen in all sorts of places, not necessarily as an art or craft project. A toddler's mind is creative without trying, so let them explore and see what they come up with!
Since I have such a hard time coming up with ideas for toddler crafts and art ideas, I'd like you to add to this list.
More crafts by the season:
How have you gotten creative with your toddler?
Click the image below for 14 learning activities that are geared just for your toddler!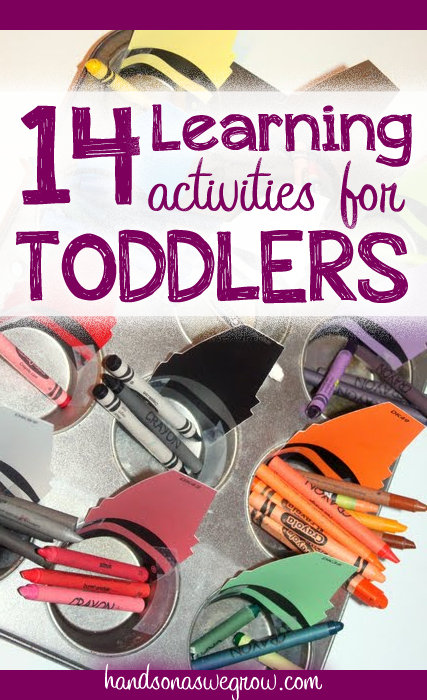 These may not all be creative in terms of arts and crafts, but toddler activities in general are creative, right? Keep updated on our toddler activities for new posts, along with the Toddlers Play Too! board on Pinterest.